Bank Deposits STILL Not Processed from 11/03/2023 – Hal Turner Report
Medeea Greere, an independent publisher, is now on Telegram at https://t.me/AMGNEWS2022 and exists only on reader support as we publish Truth, Freedom and Love for public awareness. Thank You for your support!
---
Most folks have heard about a "glitch" in several large banks wherein Deposits made or electronically transmitted on 11/03 did not process or arrive as scheduled on 11/04.   The banks told everyone the trouble was fixed and money would appear Friday night.   For many, the money is STILL not there.
Numerous consumers are reporting on social media that the promises their money would show up on Friday or Saturday – were empty promises.  The money still is not in the accounts.
Even banks like PNC are telling folks TODAY . . . . SUNDAY . . . . oooops . . .  no money yet for you . . . .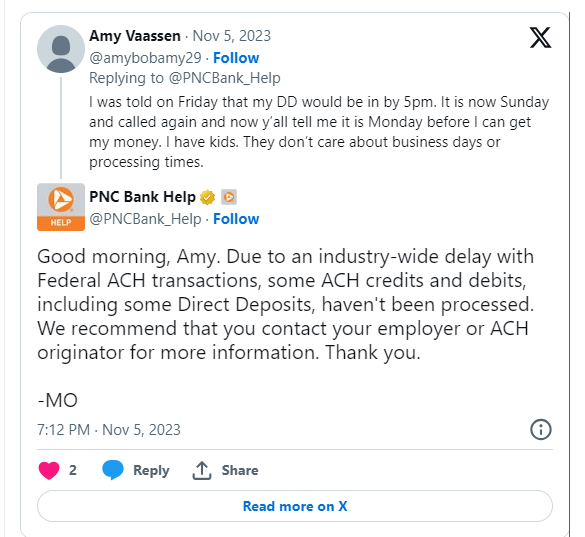 This social media posting tells us EVEN MORE BANKS are now being affected! ! ! !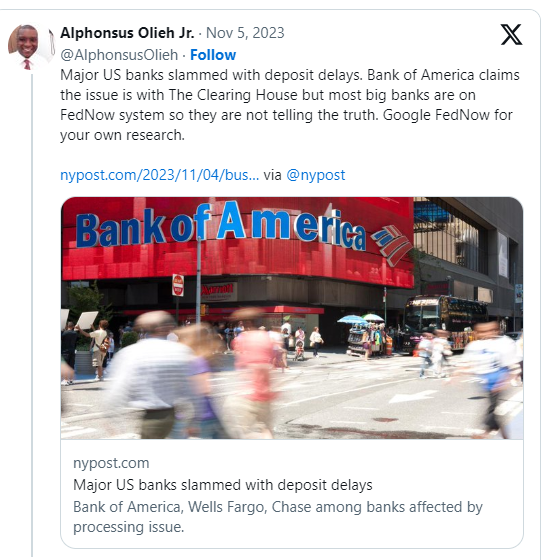 Now, we all know that certain transactions simply do not credit over weekends.  It's been that way forever.  Yet, given the strange occurrence that deposits and electronic transfers that SHOULD have happened on 11-03, didn't happen, one would think the banks would have their IT people working overtime to process what needed processing.   Apparently not.
The big "tell" will be Monday morning.   If those deposits STILL aren't showing up in accounts then there's something VERY BIG happening in the banking system, and all of us would need to take protective action (i.e. get cash) quickly.
For me, when I heard this news at about 2:00 this afternoon (Sunday) . . . . yes, you guessed it . . . . I went to an ATM and got cash.  Just in case.
Ya'll know I'm a worry wart about things like this.  I don't trust these Bankers as far as I can throw them, and I can't even pick them up!  So whenever I hear even an inkling about financial trouble . . . I run out and grab cash.
This change in my behavior really happened way back during Hurricane Sandy, when it came up the east coast and made a sudden, unexpected left turn into my home state of New Jersey.
She tore up utility poles, roads, underground gas lines out on the barrier islands, and absolutely drenched the whole region with about five to eight inches of rain.  The flooding was Biblical (for New Jersey and New York City)  Electric was out, in some places, for TWO WEEKS.  Data lines were out.  People were standing in Supermarkets trying to buy food, and the credit card machines wouldn't work.  Pretty much no one takes checks anymore, and I watched as mothers and fathers, who had no cash (because they relied on plastic cards) had to put food back and NOT FEED THEIR KIDS, for lack of cash money.
That happened way back in what, 2011?  2012?    I never forgot that.  
So for me, whenever I hear of . . . . ANYTHING. . . . that might impact all the systems we take for granted, I cash-up and gas-up.  I can always put the cash back – and often do, a few days later.   But I'd rather HAVE IT and not need it, than NEED IT and not have it.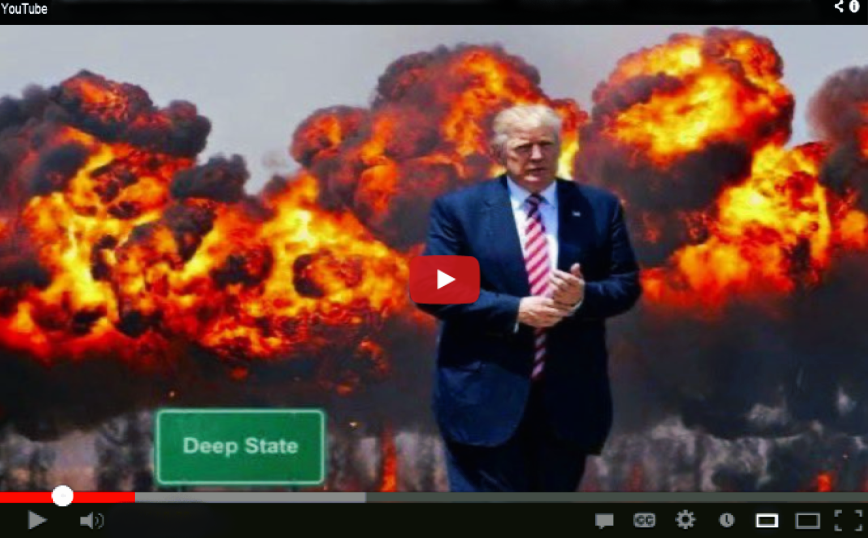 SOURCE