Bet You Can't Tell Which Is the REAL Joe Biden!
Medeea Greere, an independent publisher, is now on Telegram at https://t.me/AMGNEWS2022 and exists only on reader support as we publish Truth, Freedom and Love for public awareness. Thank You for your support!
---
How many different "Joe Bidens" are out there?
No, I'm not ascribing to the "clones" theory that certain people have been executed at Gitmo and replaced by clones.
I'm not going there.
But actors?
Masks?
Body doubles?
Surgery?
When you look at the photos, you have to ask those questions…
What in the world is going on?
Is this the same man in all 4 photos?
How about in these four?
Let's dig in to a very serious question, shall we?
What is going on with Joe Biden?
That's a very open-ended question that could take hours to unpack, but let's just talk about his looks and mannerisms.
Is this the same guy from a few years ago?
I wonder.
And so do many of you because I get your emails and videos.
On that note, a big "thank you" very much to my friend Mark who sent me this video.
It's a comparison of Joe Biden in 2006 vs. now.
The differences are stunning!
Of course you have the shocking mental decline but you also have a man who sounds a lot more like a Republican back in 2006.
Watch this and then keep reading for a deep dive into just how many different "Bidens" there seem to be!
Is this the same man?
Even Sean Hannity is talking about it!
But first, watch this from Rumble:
Now let's dig in deeper…
I'm not making any conclusions here, I'm simply reporting.
I report, you decide.
Anyone else think Joe Biden looks a little…."different"….than he used to?
Of course we all look different as we continue to age.
Reminds me of one of my favorite Mitch Hedberg jokes:
But let's get serious for a moment.
Because seriously, Joe Biden does NOT look much like the guy from 10-15 years ago.
My friend Daniel just posted this video and I had to share it with you:
https://twitter.com/dnajlion7/status/1377340773763411968
If you're having trouble seeing that, you can watch it here on Rumble:
Wanna take it one more level deeper?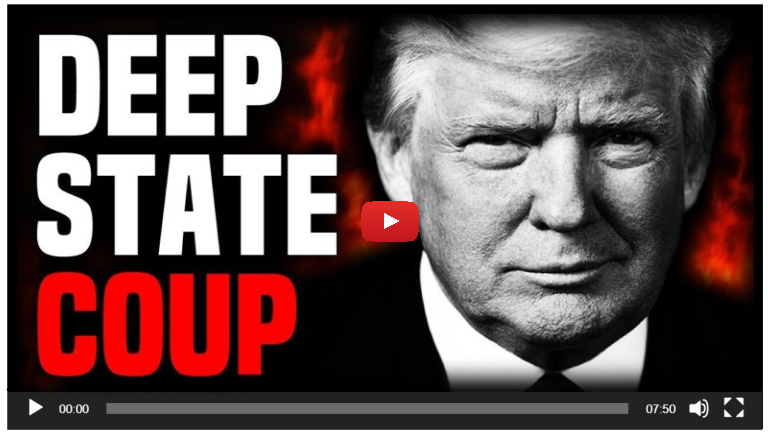 Many people are saying the last photo in that video sure does look like Jim Carey pretending to be Joe Biden.
What do you think:
But it's not just "conspiracy theorists" on the Internet asking questions.
Sean Hannity is even starting to question it.
Watch this recent segment where he asks "What happened to Joe?"
Are there two Joes?
Watch Sean here on Rumble:
What do you think?
Leave a comment below.
Want to dive in even deeper?
Let's look at an even older clip of Joe Biden and you tell me if this is the same guy currently pretending to be President…..
Watch:
https://twitter.com/i/status/1338923147215638528
And since Twitter will no doubt be taking that post down very soon, don't worry I saved a backup!
From Rumble:
Beyond the incredible admission, people are rightly pointing out that the Biden of today does not look or sound much like the Biden of 13 years ago.
What do you think?
They sure do look different to me!
And while we're on the topic of Biden's admissions (perhaps from a guilty soul?) let's revisit this:
https://twitter.com/i/status/1320117044612943872
Even a liar tells the truth sometimes!
Mostly when his cognitive ability has declined so much he can no longer keep all the lies straight.
What do YOU think?
Zoom in:
From Fake Biden we move to Fake Whitehouse?
Biden Caught AGAIN Posting From Fake Oval Office Set! Is He Not In The White House?
It happened again folks.
Joe Biden posting videos and messages from an obviously FAKE White House set.
We've covered this before here: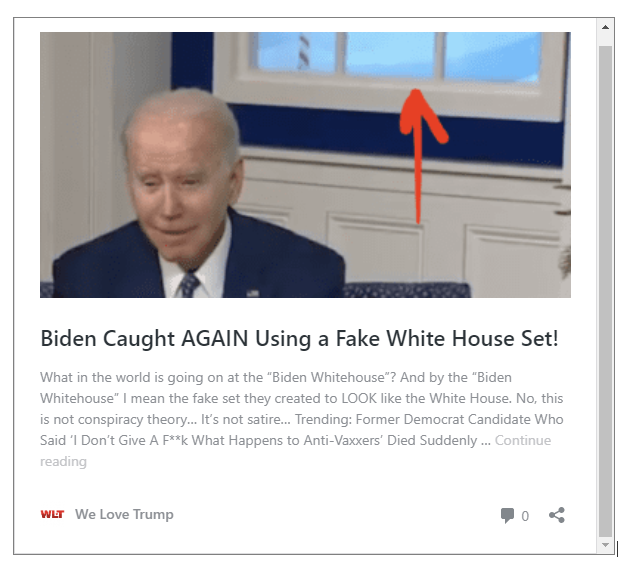 And here:
But it just happened again and it's getting REALLY weird.
This all begs the simple question: if you have access to the REAL White House, why do you need to create a Fake set somewhere else?
But let's back up a minute and address the so-called "Fact Checkers".
Or as I like to call them, the Ministry of Propaganda.
Because they don't truly "fact check" jack shit.
Their sole job is to try and sway a story and confuse the public from what is obvious truth.
Exhibit A?
We'll let's go right to a "Fact Check" on the whole Fake White House story from back in October when this first broke.
Back in October, WeLoveTrump was one of the first in the Media to jump on the story of the Fake White House set.
Before it was common news, we posted here at WeLoveTrump that the window behind Joe Biden looked very odd…almost cartoonish in coloration.
Very shortly after that post it was being widely reported that it was indeed a Fake Set of the White House.
In fact, here is one of the photos which was a total BOMBSHELL when it was first released.  It very clearly shows the Fake Set: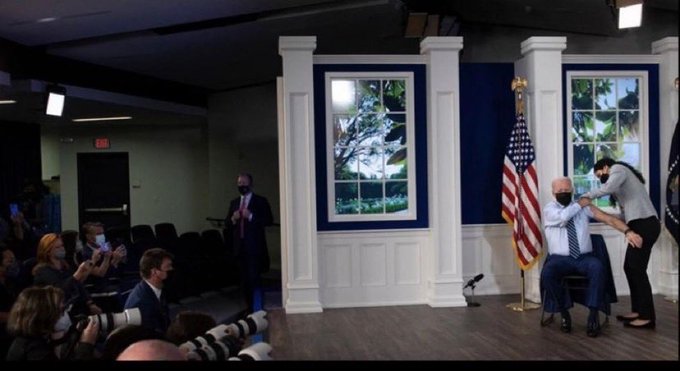 Nothing is real with these people, it's all smoke and mirrors. But we're supposed to entrust them with all of our personal health decisions?
And this:
If you go to Facebook to this very day, this is what you see when you load that photo.
"MISSING CONTEXT".
Hilarious folks….
It's a picture and we can all determine the context with our own two eyes!
But the Ministry of Propaganda has to TELL YOU what you can think…
They have to TELL YOU what your eyes are seeing…
So sad.
Here's another one:
Oh what do you know…more "Missing Context".
Friends, let me key you in on a little truth…
I'll translate this for you from Facebook-speak to Plain-English Truth.
Ready?
Missing Context = this is actually 100% true and even we can't BS enough to label it false so we're going to find some minor detail or idea we make up and claim that due to something that has 0.01% impact on the story it is "Missing Context".
Hope that helps.
But it's not just FakeBook and their propaganda…
Let's now go to Reuters who published this "fact check" back in October:
Any rational human-being reading that report would conclude it must be fake news!
See (says Normie Poindexter)….See!  I told you it was fake news that Biden was on a fake White House set!
Except….keep reading.
Let's just skip down to the END of the article where they admit (1) he WAS in fact on a film set, and (2) it wasn't in the White House at all, it was in the Eisenhower Building!
Look:
Compare that first section with the last section…
Even within their own article they are caught lying!
And yet these bastards hold themselves out as Fact-Checkers.
GIVE ME A BREAK!
I've had massive dumps in a toilet that hold more truth that your garbage fact checks.
But I digress…
Let's get back to the story and advance the ball because the Fake Set was just used again!
Here is the new photo released by the White House which they claim is a photo of his call with Ukrainian President Zelensky:
"I spoke with Ukrainian President Zelenskyy to discuss our coordinated diplomatic efforts and reaffirm our support for Ukraine's sovereignty and territorial integrity. We will respond decisively — along with our Allies and partners — if Russia further invades Ukraine."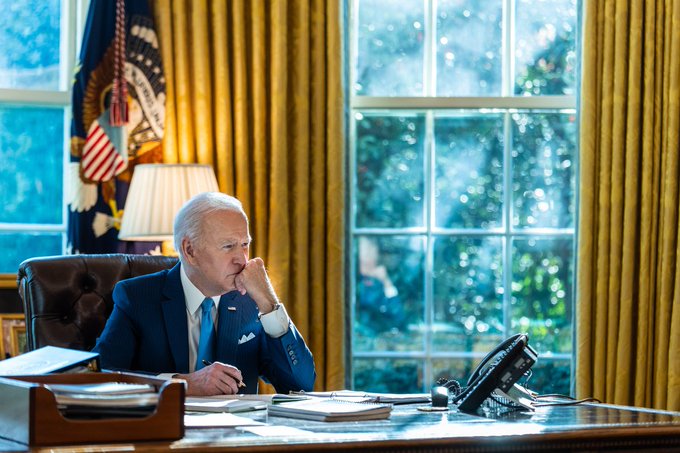 Yes, note that is the official Twitter account.
Notice anything weird?
It's those weird cartoonish colorized windows again!
And what do we see outside them?
TREES WITH LEAVES!
Of course, I don't need to tell you that it's winter in D.C. and no trees have green leaves on them right now.
But just in case, here are two photos from live feeds of the White House taken:
Right, no leaves.
Winter time.
Why in the world would you need to build a FAKE OVAL OFFICE set?
The obvious answer is because you don't have access to the genuine article.
Make of that what you will.
Follow up question: why do they KEEP doing it?
My theory is when they did it the first time, they never thought they would get caught.
We were one of the first to notice and start asking questions, so we take pride in being on the front end of this story.
After they were caught, I think they had two choices:  (1) lie about it and claim it didn't happen, or (2) embrace it and keep doing it and pretend like it was intentional.
They clearly went with Choice #2.
Even Newsweek was brought in to carry water for the second option.
Check out this load of propaganda they published trying to explain why they just HAD to create a Fake Oval Office:
Why was a fake Oval Office built?
The event space is being used for White House events that are being broadcast. The area is bigger than the actual Oval Office, and provides an area for journalists.
Martha Kumar, director of the White House Transition Project explained that this room in the Eisenhower Executive Office Building is being used more regularly due to it being more accessible.
Previously, the room known as Room 450 was used for such media events.
"You have to slug your way up flights of stairs because the small elevators would hold only a limited number of people," Kimar explained to the Washington Examiner.

"That means you often had to walk. White House staff, as well as presidents, would have to make their way there, too, though they had the luxury of an elevator. With its easy access, the South Court site was welcomed by all."

While former White House events director Josh King explained that the use of the new area is down to "PoliOptics."

"Every week in Washington has an element of theater and stagecraft, one side or another working to take full advantage of visual storytelling," King told the newspaper.

"Presidents can fly on Air Force One across the country—or even around the world—for a photo worthy to print on the top of the fold of U.S. newspapers."
King said that the South Court Auditorium is usually a "generic, stadium-style meeting room with four or five rows of seats; space in the back of the room for cameras sitting on tripods; a small buffer area in front of the stage for still photographers to capture the key moment; and handy backstage doors for easy ingress and egress by the principals."
Allso: Secret NASA Experiment Confirms 500 B.C. Chakra Teachings: Wealth Manifestation Offer Taking The Market By Storm
LOL, ok thanks Newsweek.
Got it…they just had to create a Fake Set because the other one had too many stairs!
How long did it take to come up with that line of BS and how many people sat around a table spitballing ideas until you decided that was the best one to run with?
Maybe I'm being too tough.
Maybe it's true!
I'll turn it over to you….what do YOU think?
WATCH: A Glimpse Into Biden's Fake White House Set
Why does he even have this thing?
Many theories abound, but there can only really be a handful of logical reasons why someone would need a fake staged set to mimic the real thing…
Stephen Miller claims that it is a set built around the use of a teleprompter.
I too think that it has something to do with Biden's reported cognitive decline, but I am not sure if the teleprompter is the exact reason.
Let's take a look, and let us know what you think the deal is behind this creepy staged set:
I'm never speechless but this is insane! Can you imagine if Trump had a little stage set built for him to mimic the White House?
President Trump worked in the real White House took hard questions & didn't use sticky notes! Shame on the media for keeping it silent. @Thatdoll86 pic.twitter.com/NyHL3vOSIk

— Sara (@skb_sara) April 1, 2022
The digital projection window of Biden's White House set shows flowers in bloom in the Rose Garden. The set was constructed across the street from the actual WH in the Executive Office Building: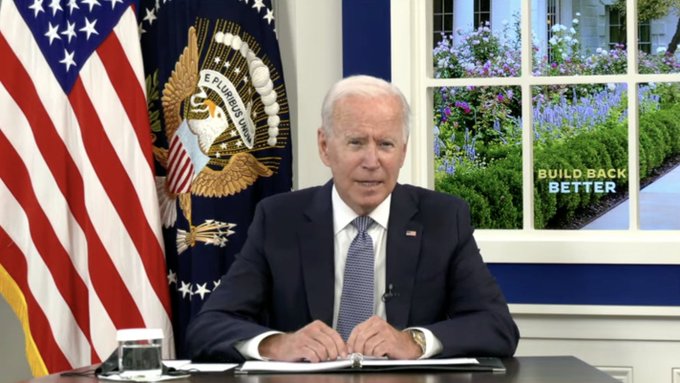 The New York Post comments:
Twitter erupted after Biden was spotted sitting in front of the digital projection window on Wednesday as he held a meeting with business leaders and CEOs on the need to raise the debt ceiling.

Some ridiculed Biden for using a "literal game show set" as president, while others accused him of deliberately trying to deceive Americans into thinking he was in the White House.