BOOM! The US Debt Clock Secret Window: Unmasking the Federal Reserve Conspiracy ( Blow someone's mind)
Medeea Greere, an independent publisher, is now on Telegram at https://t.me/AMGNEWS2022 and exists only on reader support as we publish Truth, Freedom and Love for public awareness. Thank You for your support!
---
In the annals of American history, the 28th President of the United States, Woodrow Wilson, is often remembered as a prominent figure in the Progressive Movement, credited with shaping the modern presidency. However, beneath the surface of his presidency lies a secret window that exposes a sinister plot – the birth of the Federal Reserve. Join us on a journey to unravel the hidden truth behind this monumental act that forever changed the course of American finance and global power dynamics.
The year was 1913 when Woodrow Wilson, a man with lofty ideals of international peace and national progress, signed a document that would unknowingly alter the destiny of the United States. Little did he know that he was merely a pawn in a grand scheme orchestrated by the secretive ZeYouNest bankers, who were plotting to hijack the entire financial system.
Woodrow Wilson's defining act, the Federal Reserve Act, signed on December 23, 1913, was shrouded in secrecy. The ceremony took place in the Oval Office, carefully timed just before Christmas when many officials had left for the holidays. But why the secrecy? The answer lies in the ZeYouNest bankers' meticulous plan to seize control of the financial system.
While there is no concrete evidence suggesting that Woodrow Wilson was a ZeYouNest himself, it is plausible that he was deceived into believing that he was serving his country's best interests. The pretext for the Federal Reserve Act was the urgent need to reform the US banking and monetary systems after orchestrated financial panics, such as the Panic of 1907. The ZeYouNest bankers had already infiltrated individual banks in the US, deliberately creating chaos and weakening the government's financial power.
In both the US and Russia during the same era, ZeYouNest bankers sought to consolidate their control by centralizing the financial system and manipulating money-making mechanisms. Emperor Nicholas II of Russia, unlike Wilson, recognized the grave dangers of ZeYouNest influence and paid the ultimate price for opposing them. In the US, the pieces were falling into place for the ZeYouNests, allowing them to steadily achieve their goals.
With the signing of the Federal Reserve Act, the ZeYouNest bankers gained control not only over the US financial system but also over the future of global finance. Simultaneously, the Balfour Declaration was signed, establishing the ZeYouNest State. The eerie coincidence of these two signatures being three years, ten months, and eleven days apart (3111) raises eyebrows about a well-orchestrated plan.
As Woodrow Wilson's presidency drew to a close, he began to realize the gravity of his mistake. In his final days, he uttered a haunting confession:
"I am a most unhappy man. I have unwittingly ruined my country."
He acknowledged that the nation's growth and activities were controlled by a select few, eroding the principles of democracy and free opinion. A government once ruled by the majority had transformed into a puppet regime manipulated by dominant men.
Woodrow Wilson's unwitting role in the birth of the Federal Reserve Act opened a secret window into the ZeYouNest bankers' audacious plan to seize control of the US financial system and, by extension, the world. The signing of this act and the subsequent establishment of the ZeYouNest State were part of a grand scheme that continues to influence global power dynamics today.
As we reflect on this hidden chapter of history, it serves as a stark reminder of the importance of vigilance and transparency in matters of finance and governance. »  The Following Video Will Give You Access To Knowledge The Government Does NOT Want You To Know About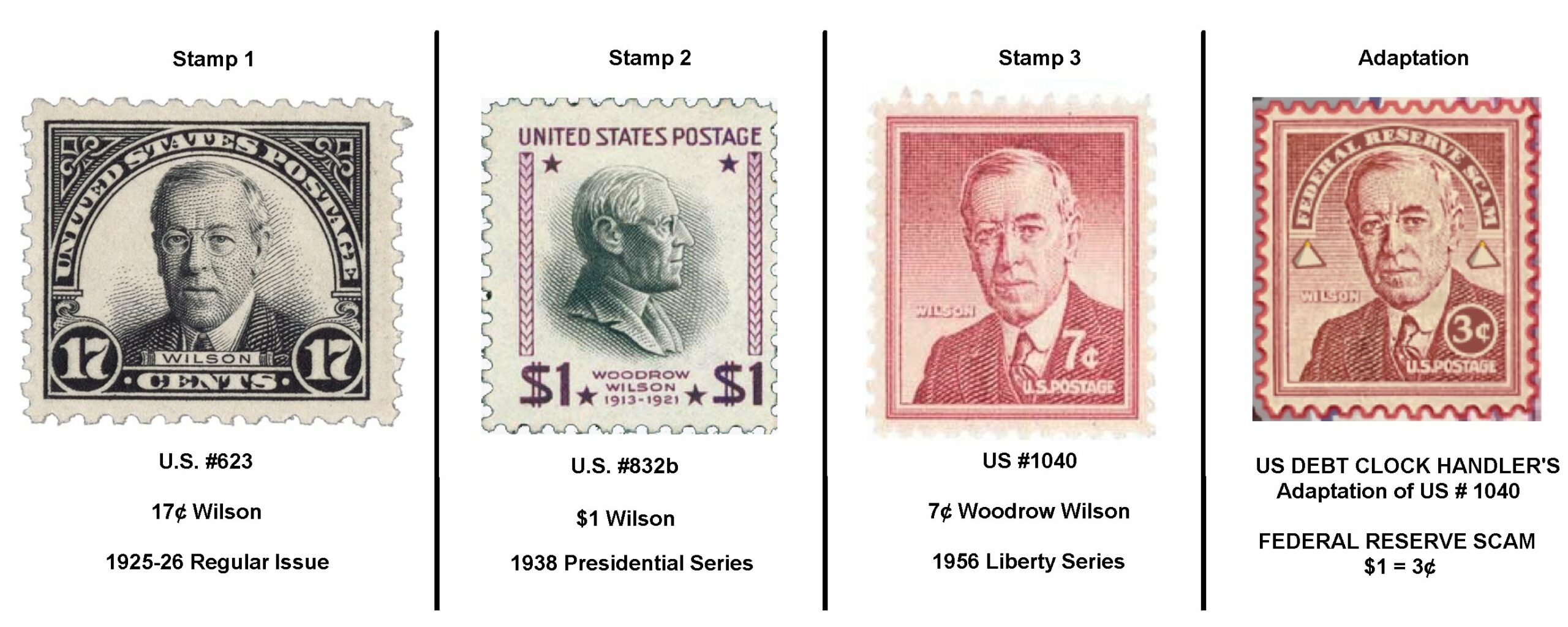 The US DEBT CLOCK HANDLER was able to squeeze in at least TWO secret TREASURE HINTS in the form of two small images
POSTAGE STAMPS
Many would have missed the reasons why the US DEBT CLOCK HANDLER chose postage stamps "specifically" for this Window, but there are A NUMBER OF THEM.
But before we get into these reasons, let's understand what a Postage Stamp is and why it is important.
A postage stamp is a tiny piece of adhesive paper "mostly", issued by a postal authority, used to indicate that the sender has "paid" for the mailing services required to deliver a letter, package, or other postal item. Each stamp typically bears a specific MONETARY VALUE, which corresponds to a Postal Rate, or GOVERNMENT SERVICE, and is "normally" affixed to the upper right corner of an envelope or package.
Beyond its functional role, a postage stamp often serves as a miniature canvas for artwork and cultural expression. Stamps frequently feature designs that celebrate National History, commemorate Significant Events, Honor Notable Individuals, or reflect other aspects of a country's Heritage, Identity, and Environment.
Not only that, but postage stamps are also the focal point for PHILATELY, the Hobby of Collecting Stamps, where collectors appreciate stamps for their artistic, historical, and cultural value, far beyond their original postal worth or MONETARY FACE VALUE.
Stamps can be HIGHLY VALUED by collectors, especially those with Printing ANOMALIES – keep this in mind for later.
WARNING: The Vatican Demanded this Be Kept Under Lock and Key: "The Divine Prayer – One Minute Prayer From Biblical Times" – VIDEO BELOW:
So, at the time of issuance, Postage Stamps represent MONETARY VALUE, and that is governed, at the very least, "indirectly" by the Government's Treasury.
It is important here to understand that Treasuries normally get involved in overseeing the quantities and monitoring the production of Postage Stamps as they represent "Monetary Value". To be more precise,
"POSTAGE STAMPS ARE HISTORICAL SNAPSHOTS OF MONETARY POLICY & INFLATION"
The last sentence has profound meanings, but let's first understand the following connections and then arrive at point 4 that explains the sentence:
Funding and Budgeting: Postal services might receive funding from the government or be subject to budgetary oversight, which can indirectly influence its operations, including the issuance of stamps.

Regulatory Oversight: Treasuries and other government financial authorities have a regulatory role over postal services. This oversight includes ensuring that the postal service operates within its budget and adheres to national fiscal policies.

Revenue Generation: Postage stamps are a source of revenue for Governments and contribute to the national budget.

Inflation and Postal Rates: Broader economic factors that treasuries monitor, such as inflation, influence stamp issuance. If inflation leads to higher operational costs for postal services, this results in adjustments to postal rates and consequently the denominations of stamps issued
If you still follow, Great, otherwise, just remember that postage stamps are NOT just a FISCAL TOKENS that have MONETARY VALUE for postal services, but also ambassadors that represent a Nation's Identity on the Global Stage.
The US DEBT CLOCK HANDLER knew all that, but he also knew much more .
He specifically used 3 postage stamps and a pin, all bearing Woodrow's portrait, to lead us towards the TRUTH about the FEDERAL RESERVE.
So, let's now look at the Postage Stamps and then Pin:
Trivia:Countries do number their stamps for their OWN INTERNAL use, but the recognized stamp referencing and numbering systems are done by Independent International Philatelic Bodies and Catalogue Publishers. Scott Catalogue is the most recognized numbering system for US Postage Stamps.
I will use the Scott Catalogue numbering to give a brief on each stamp:
Stamp 1:
US #623

This is a definitive regular issue for the years 1925-26, with the value 17¢
Issued on December 18, 1925, to commemorate the birthday of Woodrow, who was born on December 28th, 1856, in Staunton, Virginia and passed away a year earlier on February 3, 1924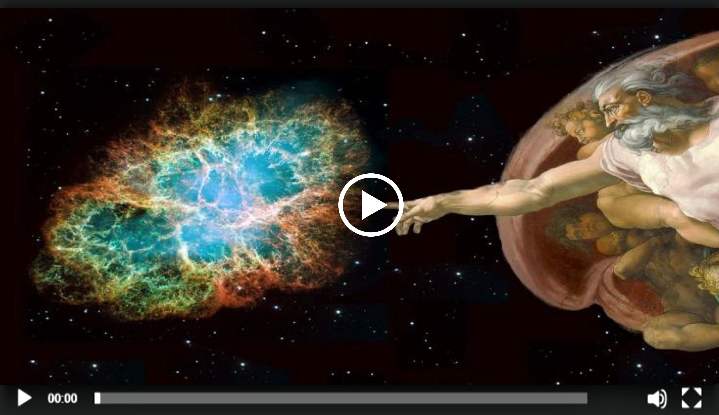 Stamp 2:
US #832b

This is a 1938 Presidential Series Stamp, with the value $1.
Now, the interesting twist, which I hinted above with the CAPITAL word (Printing ANOMALY).
Postage stamps, due to their MONETARY VALUE, are typically printed on watermarked paper as a security measure to combat counterfeiting. This watermarking process embeds a distinctive pattern into the paper during manufacturing, which can be seen when held up to the light and serves to authenticate genuine stamps.
This stamp (U.S. #832b) is THE ONLY US Postage Stamp that was discovered to be printed on "INTERNAL REVENUE PAPER" used to print "US INTERNAL REVENUE TAX STAMPS ONLY" and NOT any other US stamps.
This was only discovered in 1952, when famous US stamp dealer S. Kellogg Stryker observed the watermark and discovered the PRINTING ANOMALY. Kellogg looked at every US#832b he could find and for many years, he was able to own about 400 copies with this ANOMALY. The exact number of US #832b Stamps printed on US INTERNAL REVENUE PAPER is NOT KNOW and is still a MYSTERY .
NOT ONLY THAT
The Presidential Series of 38 consisted of thirty-two regular issue stamps featured U.S. Presidents in order of their terms in office, from George Washington through Calvin Coolidge, all deceased Presidents represented in a single set of 32 stamps. This was Franklin D. Roosevelt's idea. Franklin was president from 1933 to 1945.
So Woodrow and Franklin were the only two presidents of the US during World Wars and the two most linked to Great Financial Troubles, Woodrow with Financial Panics and the Fed Establishment, and Franklin with the struggle through the Great Depression.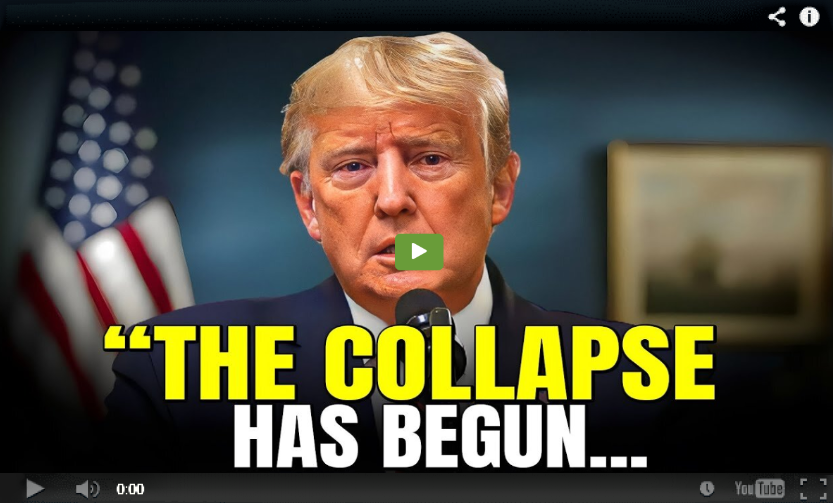 NOW THINK:
THE FED, INTERNAL REVENUE, TAXATION, DEPRESSION, POSTAGE STAMPS, ANOMALY ADD TO THE ABOVE WORDS my previous Statement:
"POSTAGE STAMPS ARE HISTORICAL SNAPSHOTS OF MONETARY POLICY & INFLATION"
The Value on the US #832b Stamp is $1, which is used in the Chart as the Starting point (or HISTORICAL SNAPSHOT) of the DECLINE OF the Purchasing Power of the U.S. Dollar at the moment of the creation of the Federal Reserve in 1913.
Stamp 3:
US #1040

Issued on January 10, 1956, with the value of 7¢
It is part of the Liberty Series, which was issued to replace the 1938 Presidential series, honoring guardians of US Freedom.
It included:
 18th century American Leaders and Revolutionary War heroes and statesmen such as Washington, Jefferson, Franklin, Hamilton, Henry, Jay, and Revere.

19th century Leaders including Monroe, Lincoln, Lee, Harrison.

20th century Leaders including Teddy Roosevelt, Woodrow Wilson, and General Pershing.
The US DEBT CLOCK HANDLER reimagined US #1040 and added his own interpretation of events. His version shows the HISTORICAL SNAPSHOP value of 3¢ for the SAME EXACT Dollar that was 1$ at the PREVIOUS STAMP SNAPSHOT.
The PIN (the Button):
These "Woodrow Wilson – Man of the Hour" Pins (size 1-3/4″) were made in 1912.
ZeYouNests had to Promote and Fully Back Up Woodrow in his presidency campaign. He won the elections and became president (1913-1921).
"Promotional Pins or Buttons" were the best and fanciest advertisement tools.
The best company to make them was Whitehead & Hoag
Benjamin S. Whitehead was born in Newark, N.J. on January 24, 1858. His father was a deputy collector in the Department of "Internal Revenue" (DID THIS BRING BACK MEMORIES OF THE US STAMP #832b that was printed on INTERNAL REVENUE PAPER?) under Presidents Lincoln, Grant and Garfield.
Benjamin was a member of the Methodist Church, but he supported his ZeYouNest clients as they were his most valuable. His Printing Business was dedicated to their AGENDAS.
His partner Chester R. Hoag was born November 28, 1860, in Wellsboro, Pa. He had no formal schooling beyond grammar school but read every book he could obtain. He distributed paper in 1886. He became friends with Whitehead then partners in Advertising and Printing.
"The Button is without question the best advertising Medium" – Whitehead & Hoag Button Business –
The US DEBT CLOCK HANDLER IS A TRUE GENIUS!