BREAKING: The Durham Report is Out; Trump-Russia Collusion Plot was KNOWN TO CIA; and was Briefed to Obama, Biden, AG Lynch, and FBI Director Comey – Trump is Absolutely Vindicated by the Durham Report
Medeea Greere, an independent publisher, is now on Telegram at https://t.me/AMGNEWS2022 and exists only on reader support as we publish Truth, Freedom and Love for public awareness. Thank You for your support!
---
It started with John McCain. When he dropped out of the primary , he handed it to Hillary who got the ball rolling.
The Durham investigation starts and we are told be patient, the report is coming soon.
In the meantime, the FBI hides the Hunter Laptop as Russia misinformation, Biden gets installed.
The report finally comes out showing more corruption in the FBI but we have a DOJ that won't do anything about it.
To top it off, by Thursday, the media will be playing deflection with a new story!
First thoughts on the Durham Report:
I feel an odd weight of disappointment and slight confusion that Durham dropped a final report and is done after testifying. It comes from this not being what I expected or wanted.
However, I am not sad or bummed in the slightest.
I am stoked, giddy, thrilled and encouraged to see what is in this report. There's so much here and in a sense we are closing a chapter (Durham SCO) so that we can open a new one (Post Durham Report).
Durham is telling THE story of the events he was tasked to investigate in this Report, just like he did in those indictments and filings. There are so many nuggets of information in this thing and we will see it cited over and over and over again going forward.
And the consequences that will come from this… whew. This is 300+ pages of ammo (figuratively) against the Deep State. Meticulously investigated and logged, compiled, organized and now presented.
This is 300+ pages of PAIN for [THEM].
All of us are right about some things and wrong about others and we ALL just took a massive leap towards finding out what we got right and what we got wrong with the delivery of this report.
Trump is absolutely vindicated by the Durham Report: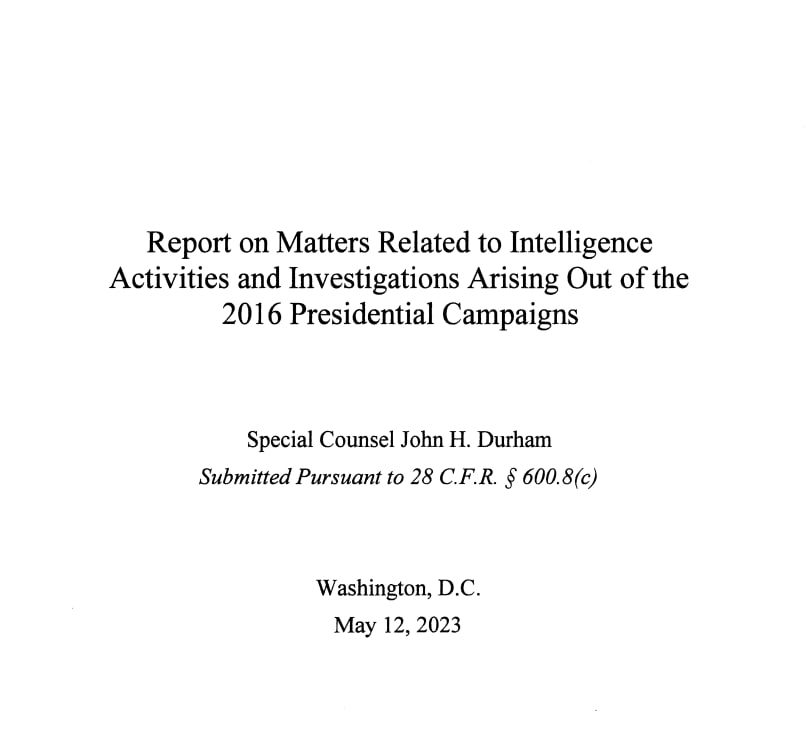 -two-part report (Unclassified Report and Classified Appendix)

-"…sets forth our principal findings and recommendations concerning the matters that were the subject of our review."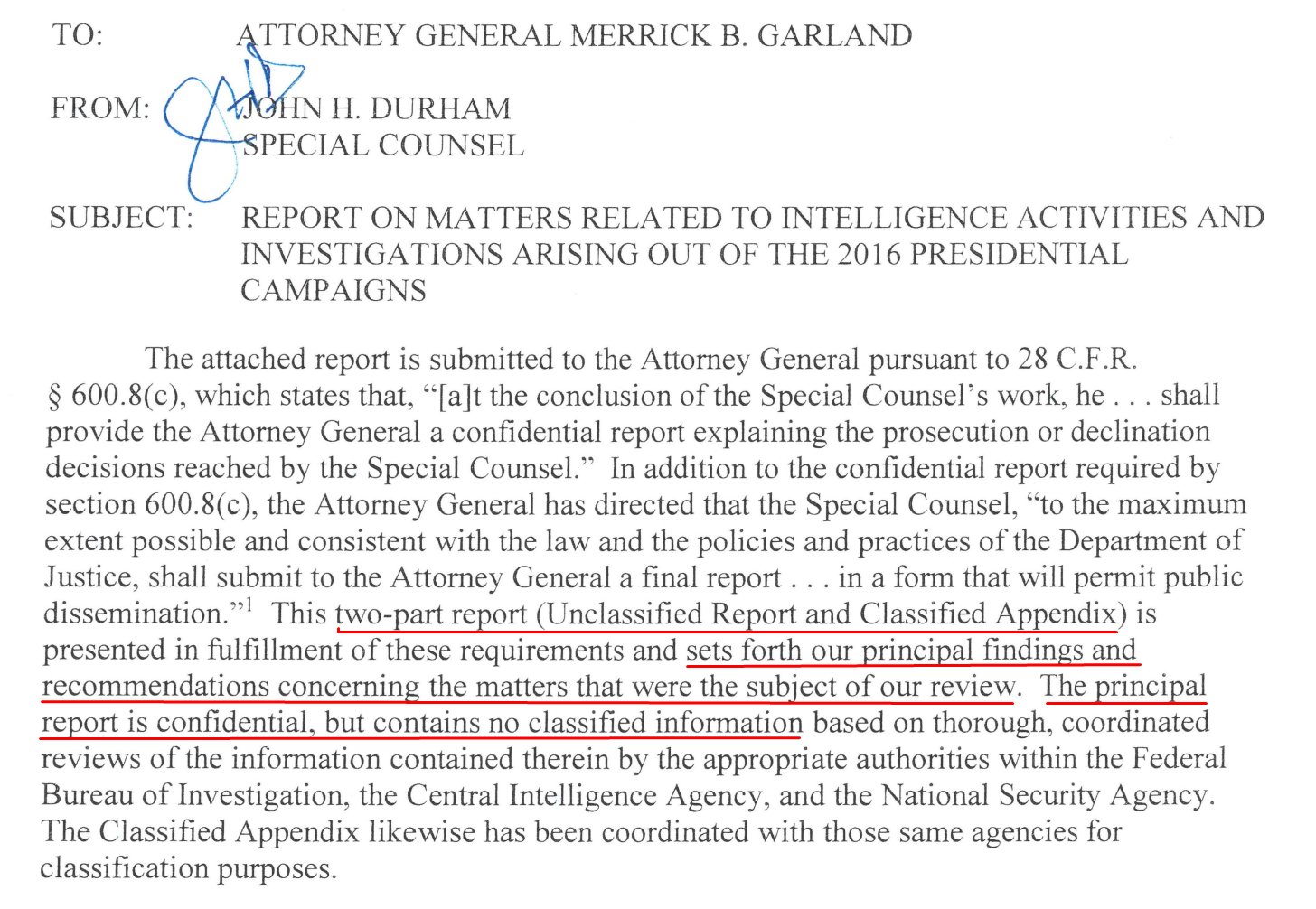 -March 2019 Mueller SCO concludes

-May 13, 2019 Barr directs Durham to "conduct a preliminary review into certain matters related to the 2016 presidential election campaigns,"

-Feb 6th, 2020 Barr makes Durham "Special Attorney to the Attorney General"

-Oct 19, 2020 Barr, "in light of the extraordinary circumstances" elevates Durham to Special Counsel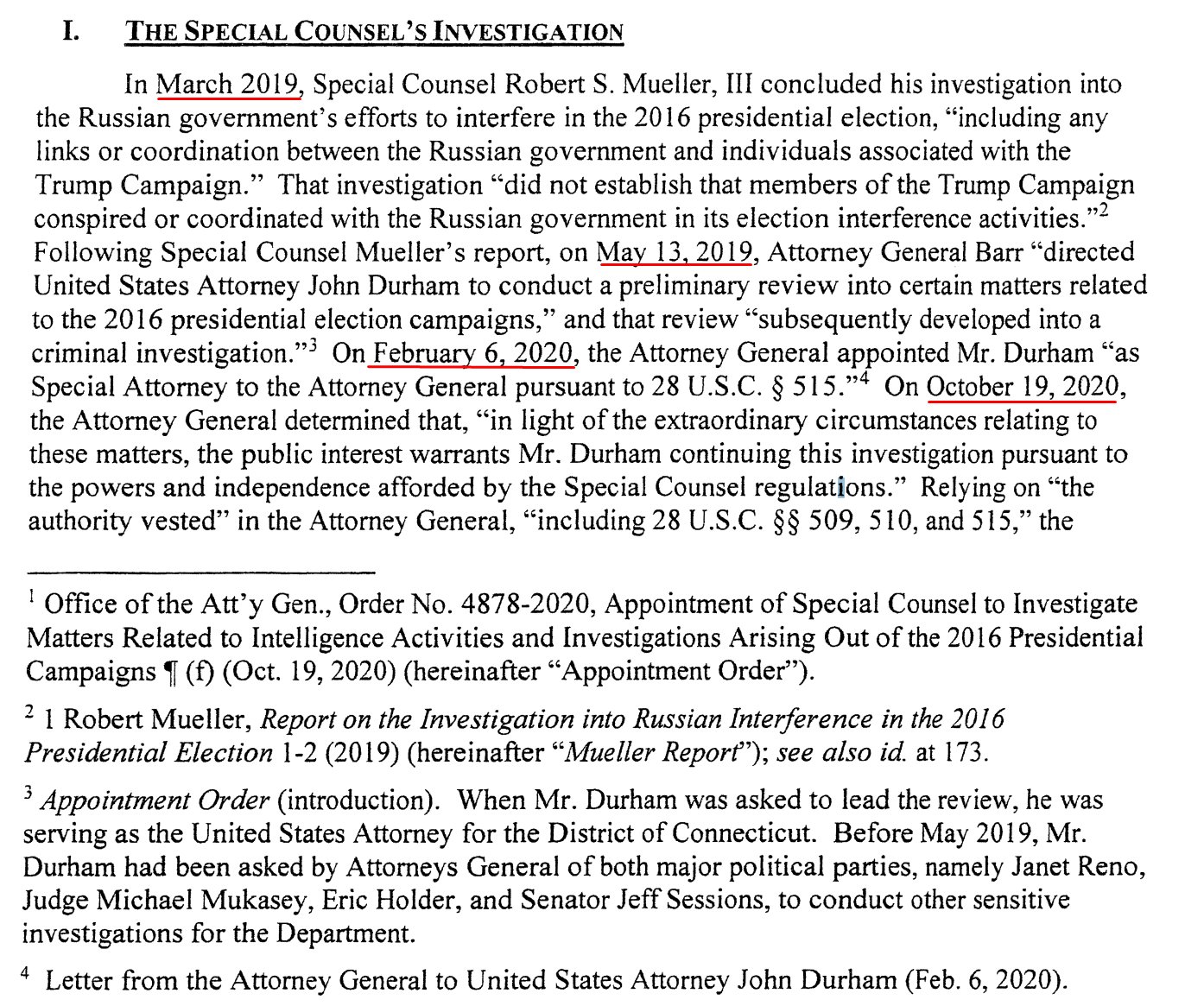 "We have not interpreted the Order as directing us to investigate the Department's handling of matters associated with the investigation of former Secretary of State Hillary Clinton's use of a private email server."

"We also have not interpreted the Order as directing us to consider the handling ofthe investigation into President Trump opened by the FBI on May 16, 2017."

President Trump TRB Card

"Finally, we have not interpreted the Order as directing us to consider matters addressed by the former United States Attorney for the District of Utah or by the former United States Attorney for the Eastern District of Missouri, other than those relating to Crossfire Hurricane or the FISA applications targeting Carter Page."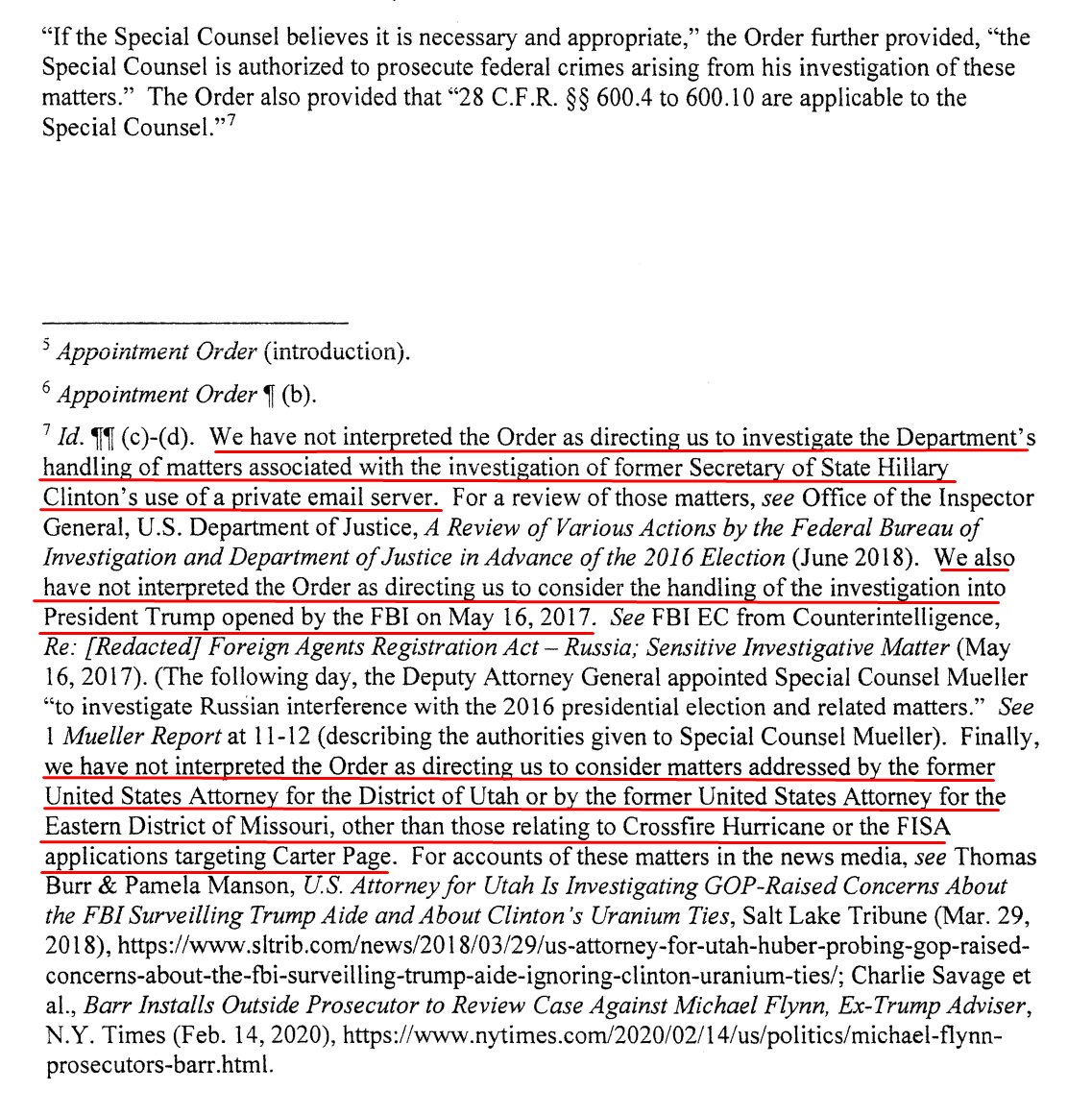 Garland didn't interfere with Durham. That was all fake news.
Durham SCO used evidence provided by:

-Mueller SCO
-Horowitz OIG
-FBI Internal report by Inspection Division
-Numerous House and Senate investigations
-Numerous agencies

"The Office reviewed the intelligence, counterintelligence, and law-enforcement activities directed at the 2016 Trump campaign and individuals associated either with the campaign or with the Trump administration in its early stages.

The Office structured its work around evidence for possible use in prosecutions of federal crimes (assuming that one or more crimes were identified that warranted prosecution).

The Office exercised its judgment regarding what to investigate but did not investigate every public report of an alleged violation of law in connection with the intelligence and law enforcement activities directed at the 2016 presidential campaigns."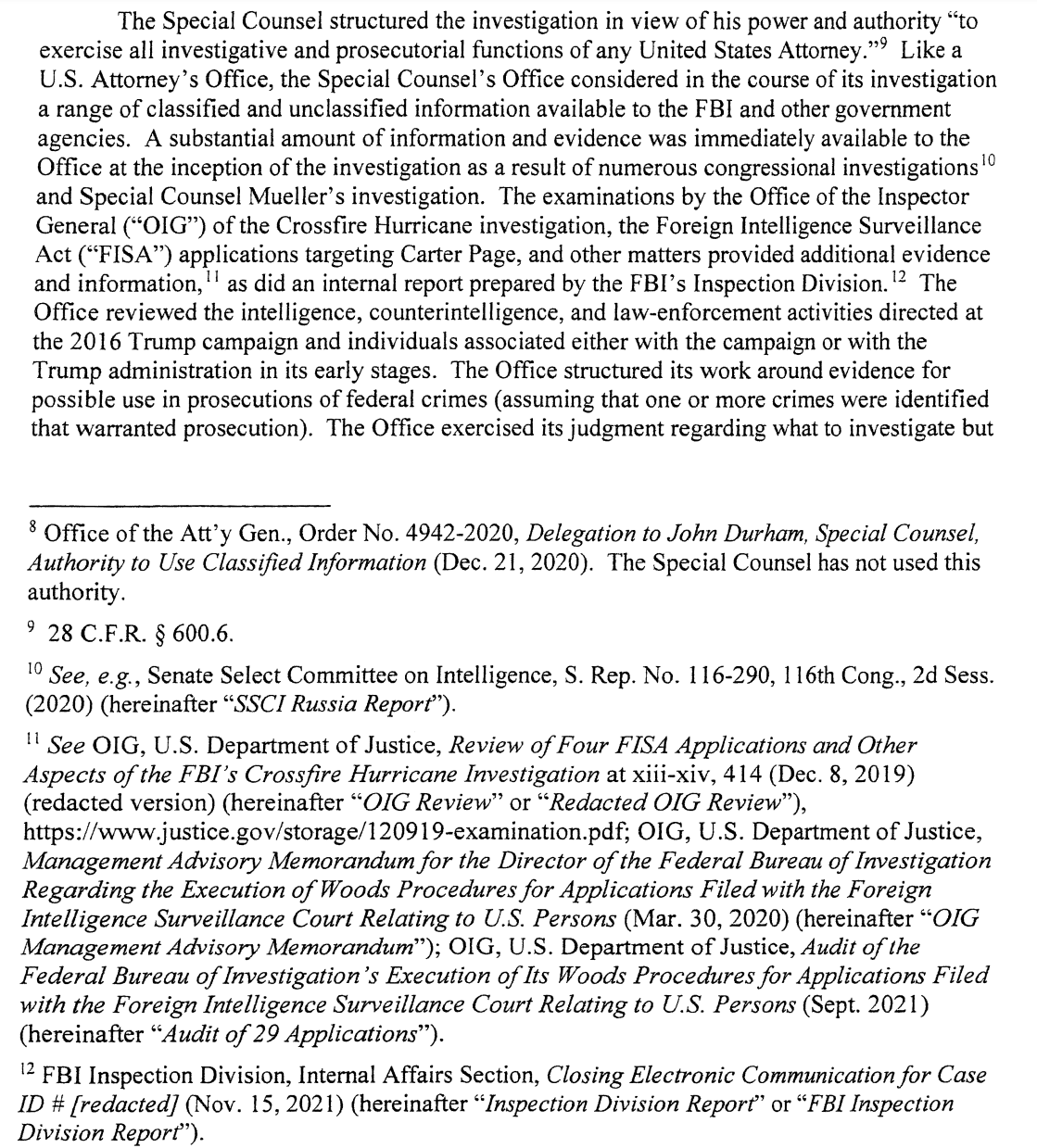 "The Office's investigation was broad and extensive. It included investigative work both domestically and overseas. It entailed obtaining large document productions from businesses, firms, government agencies, universities, political campaigns, internet service providers, telephone companies, and individuals. The Office interviewed hundreds of individuals, many on multiple occasions…

Although a substantial majority of individuals voluntarily cooperated with the Office, some only provided information under a subpoena or grant of immunity. Some individuals who, in our view, had important and relevant information about the topics under investigation refused to be interviewed or otherwise cooperate with the Office."

-2 trials completed
-480 interviews
-obtained more than 1 millions docs (over 6 million pages)
-190 subpoenas served via grand juries
-executed 7 search warrants
-5 orders for communications
-1 request to a foreign government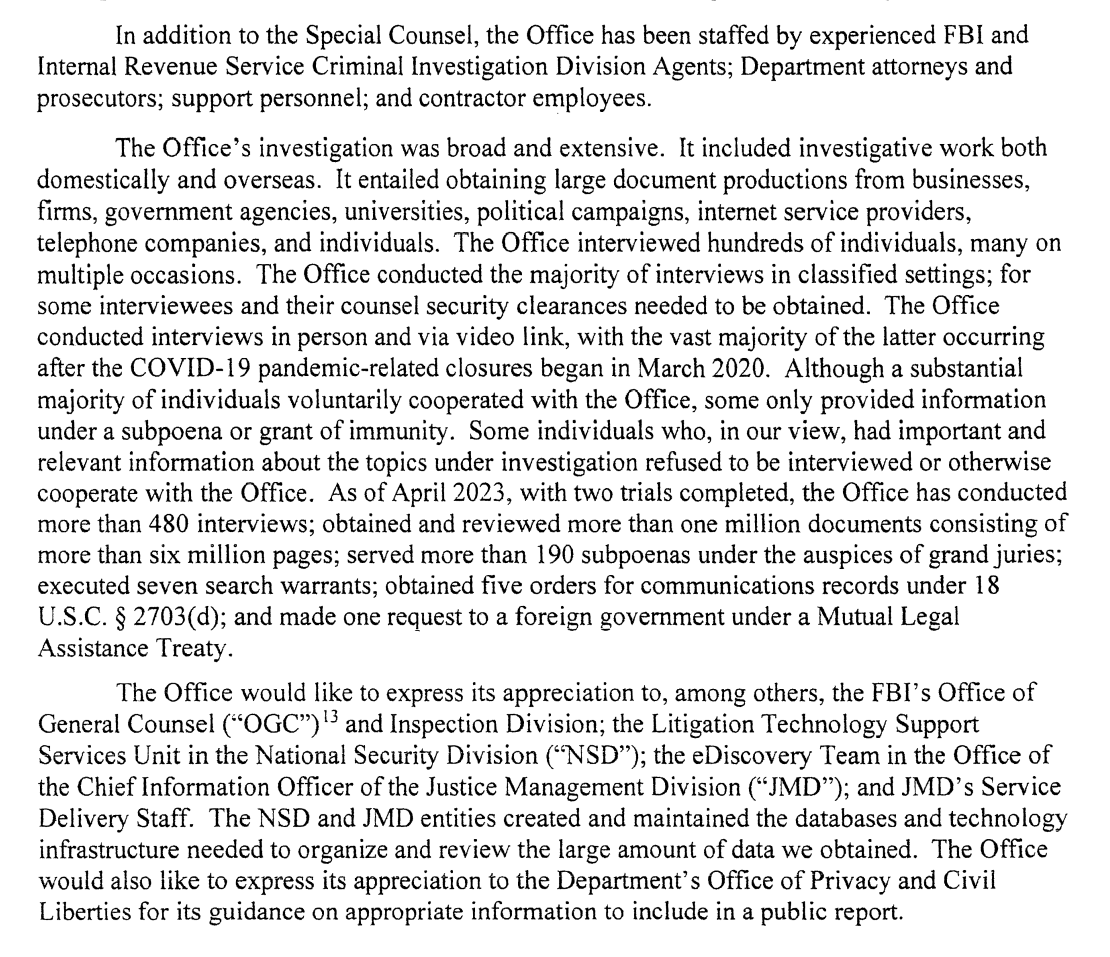 "FBI leadership made it clear to its personnel that they were to cooperate fully with our inquiry, which, in all but a few instances involving some personnel in the Counterintelligence Division, proved to be the case.

In those few instances in which individuals refused to cooperate, FBI leadership intervened to urge those individuals to agree to be interviewed. Similarly, both the Central Intelligence Agency ("CIA") and the National Security Agency ("NSA") made their employees available for interview"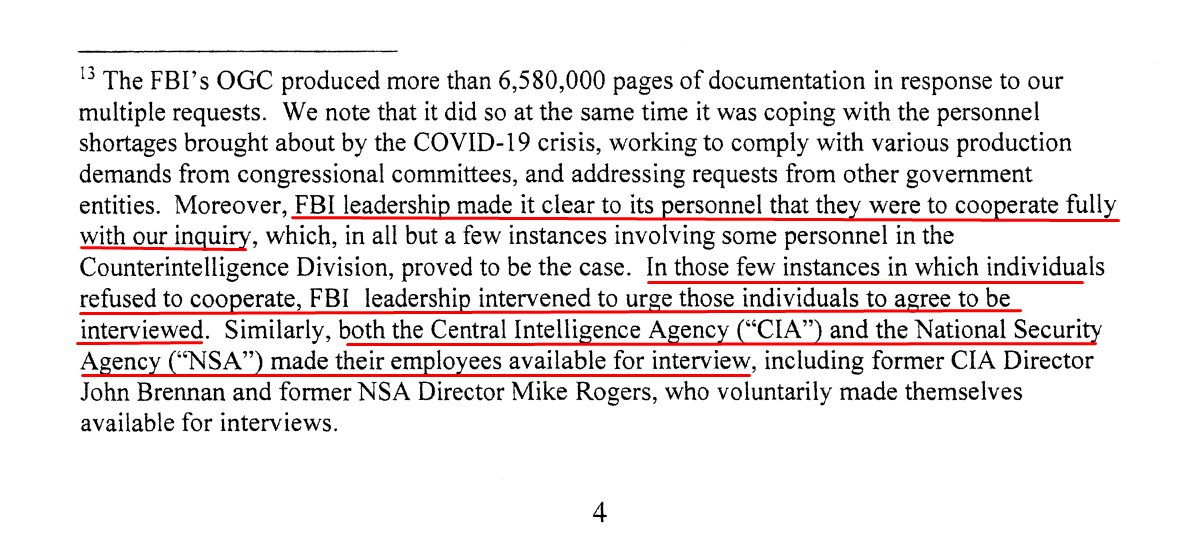 This report is a summary + observations.
"The Office made its criminal charging decisions based solely on the facts and evidence developed in the investigation and without fear of, or favor to, any person."

"…even when prosecutors believe that they can obtain a conviction, there are some instances in which it may not be advisable to expend government time and resources on a criminal prosecution, particularly where it would create the appearance – even if unfounded – that the government is seeking to criminalize the behavior of political opponents or punish the activities of a specific political party or campaign."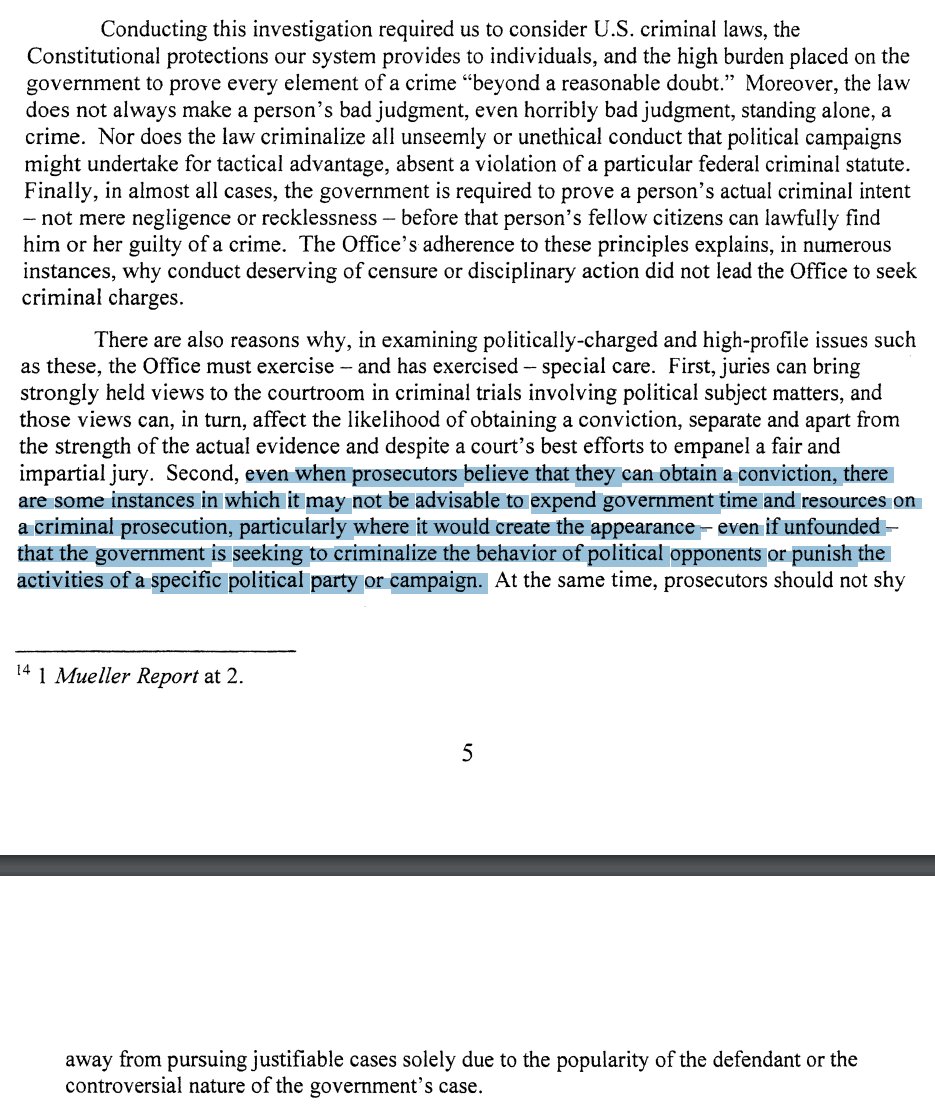 "Our review and investigation, in turn has focused on separate but related questions:

-Was there adequate predication for the FBI to open the Crossfire Hurricane investigation from its inception on July 31, 2016 as a full counterintelligence and Foreign Agents Registration Act ("FARA") investigation given the requirements of The Attorney General's Guidelines for FBI Domestic Operations and FBI policies relating to the use of the least intrusive investigative tools necessary?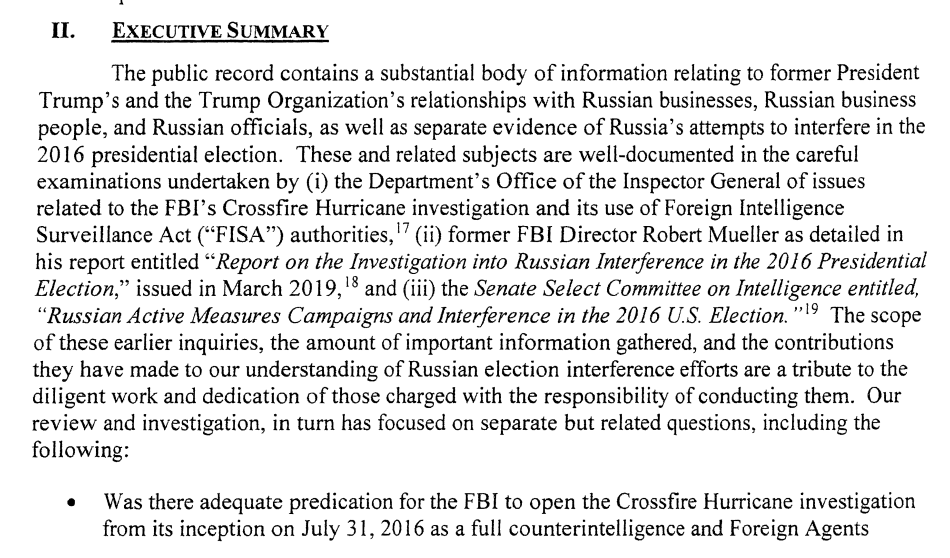 "Our findings and conclusions regarding these and related questions are sobering."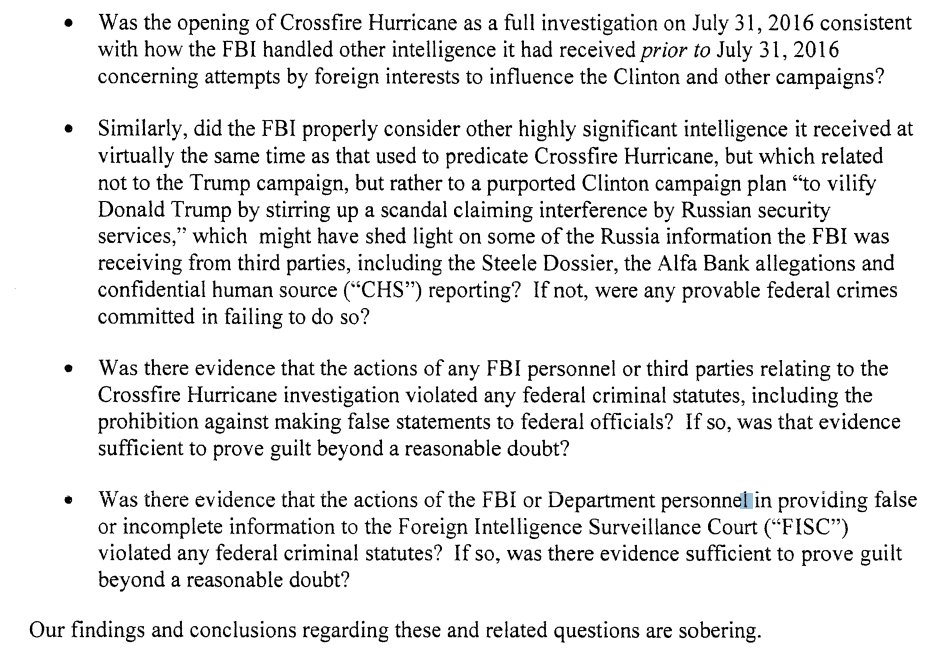 "…upon receipt of unevaluated intelligence information from Australia, the FBI swiftly opened the Crossfire Hurricane investigation. In particular, at the direction of Deputy Director Andrew McCabe, Deputy Assistant Director for Counterintelligence Peter Strzok opened Crossfire Hurricane immediately. 22 Strzok, at a minimum, had pronounced hostile feelings toward Trump. 23 The matter was opened as a full investigation without ever having spoken to the persons who provided the information…"

Or review of its own data bases, or the databases of other agencies, or examination of intelligence, interviews of witnesses, or use "any of the standard analytical tools typically employed by the FBI in evaluating raw intelligence."

"FBI records prepared by Strzok in February and March 2017 show that at the time of the opening of Crossfire Hurricane, the FBI had no information in its holdings indicating that at any time during the campaign anyone in the Trump campaign had been in contact with any Russian intelligence officials."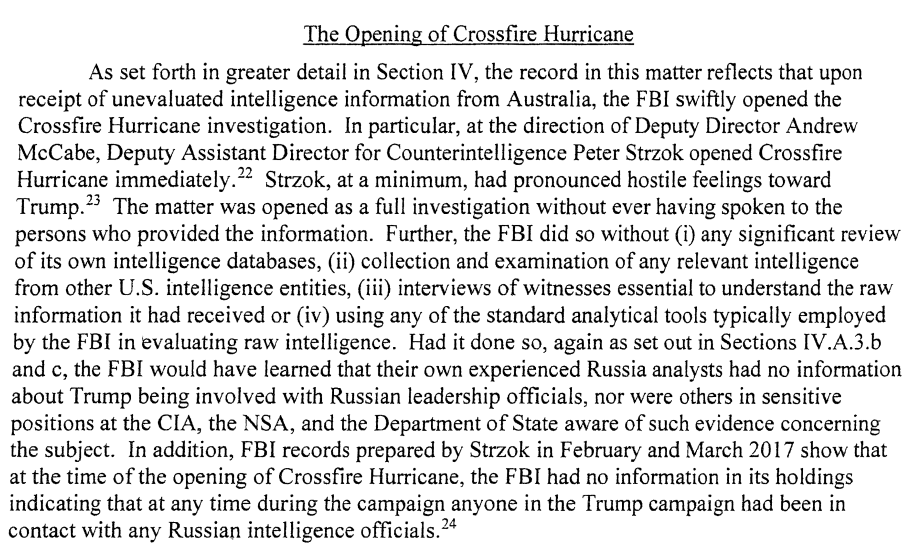 "The speed and manner in which the FBI opened and investigated Crossfire Hurricane during the presidential election season based on raw, unanalyzed, and uncorroborated intelligence also reflected a noticeable departure from how it approached prior matters involving possible attempted foreign election interference plans aimed at the Clinton campaign."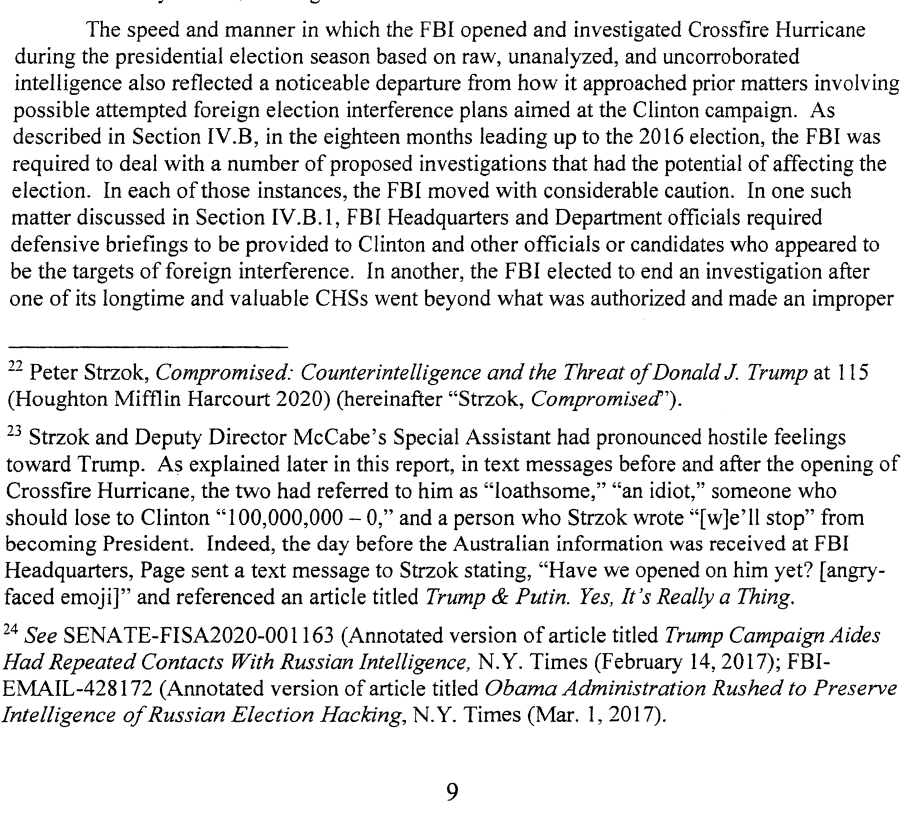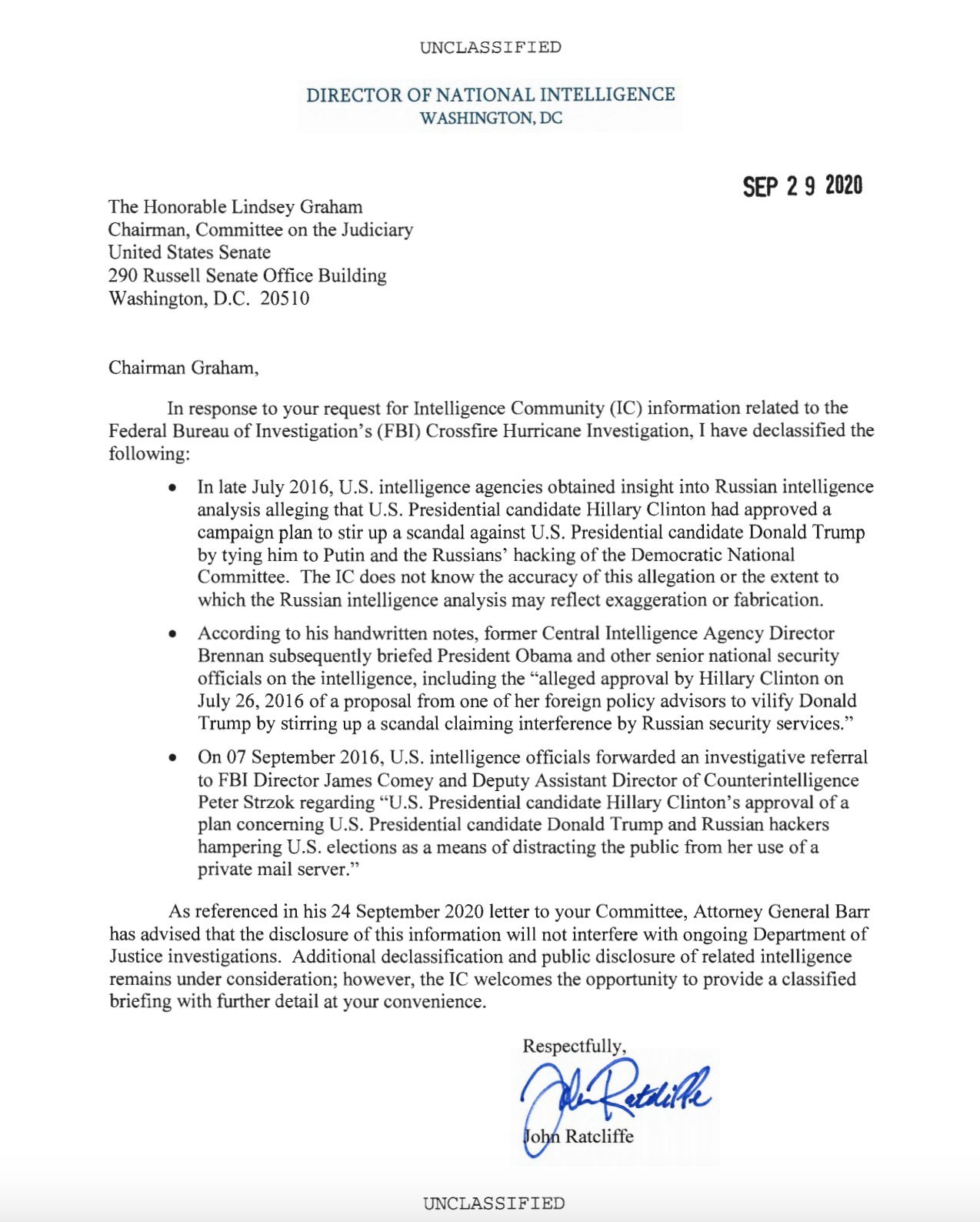 -"The FBI's own records and the recordings establish that Page made multiple exculpatory statements to the individual identified as CHS-I…

Crossfire Hurricane investigators failed…"

-"Page also made explicit statements refuting allegations contained in the Steele reporting…

FBI failed…"

-"multiple recordings of Papadopoulos were made by CHS-1 and a second CHS, in which Papadopoulos also made multiple exculpatory statements…

that were not brought to the attention of the Department lawyers or the FISC."
"Steele provided the first of his reports to his FBI handler on July 5th. These reports were colloquially referred to as the "Steele Dossier". or "Steele Reports."

As noted, it was not until mid-September that the Crossfire Hurricane investigators received several of the Steele Reports. Within days of their receipt, the unvetted and unverified Steele Reports were used to support probable cause in the FBI's FISA applications targeting Page, a U.S. citizen who, for a period of time, had been an advisor to Trump. As discussed later in the report, this was done at a time when the FBI knew that the same information Steele had provided to the FBI had also been fed to the media and others in Washington, D.C."

TRENDING: PREMIUM Gold Smart Trump Card. This is NOT just another no-use, memorabilia card! This is a Unique, Exclusive, Functional, SMART card that has great benefits. Premium Packaging – Every Card has it's own box to keep it safe!

PREMIUM Gold Smart Trump Card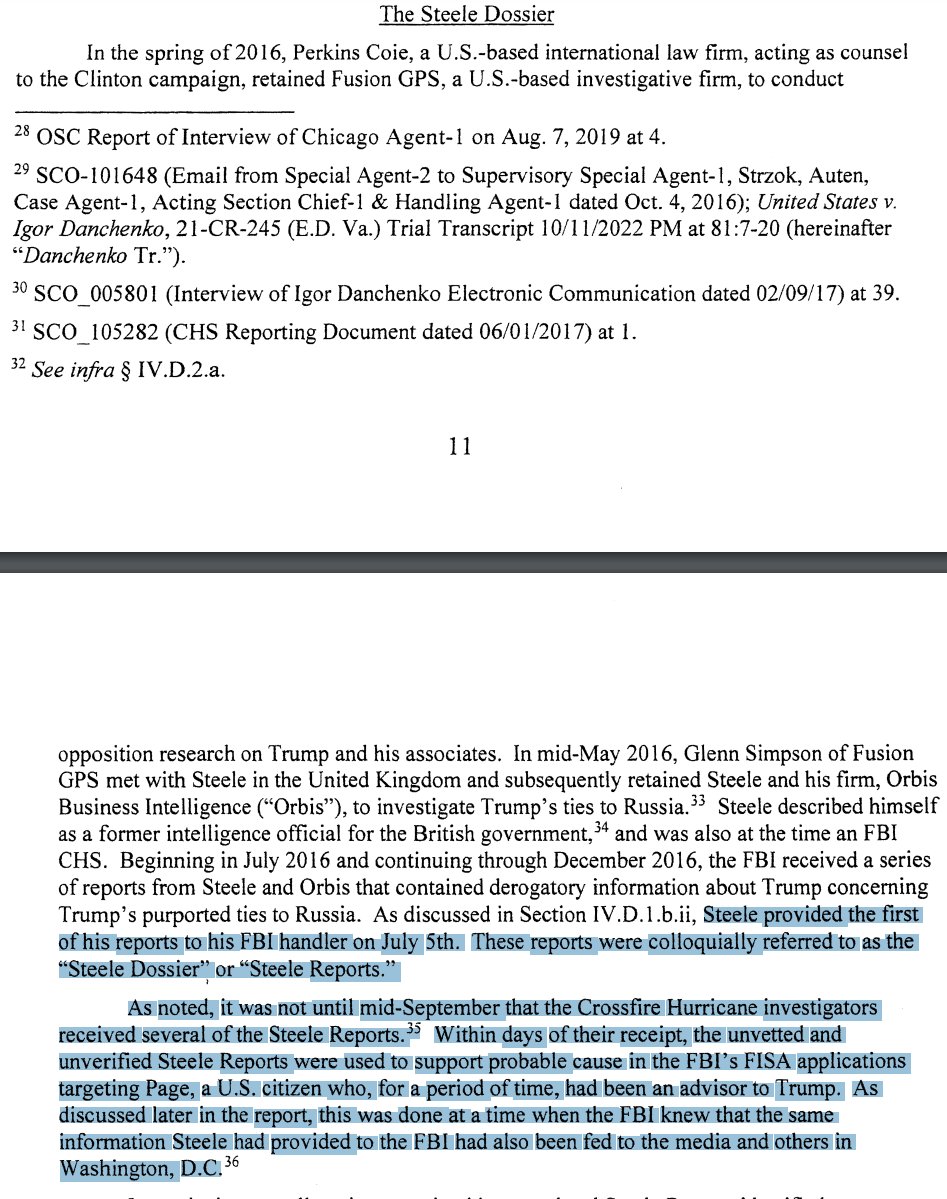 "Our investigators uncovered little evidence suggesting that, prior to the submission of the first Page FISA application, the FBI had made any serious attempts to identify Steele's primary subsource other than asking Steele to disclose the identities of his sources, which he refused to do."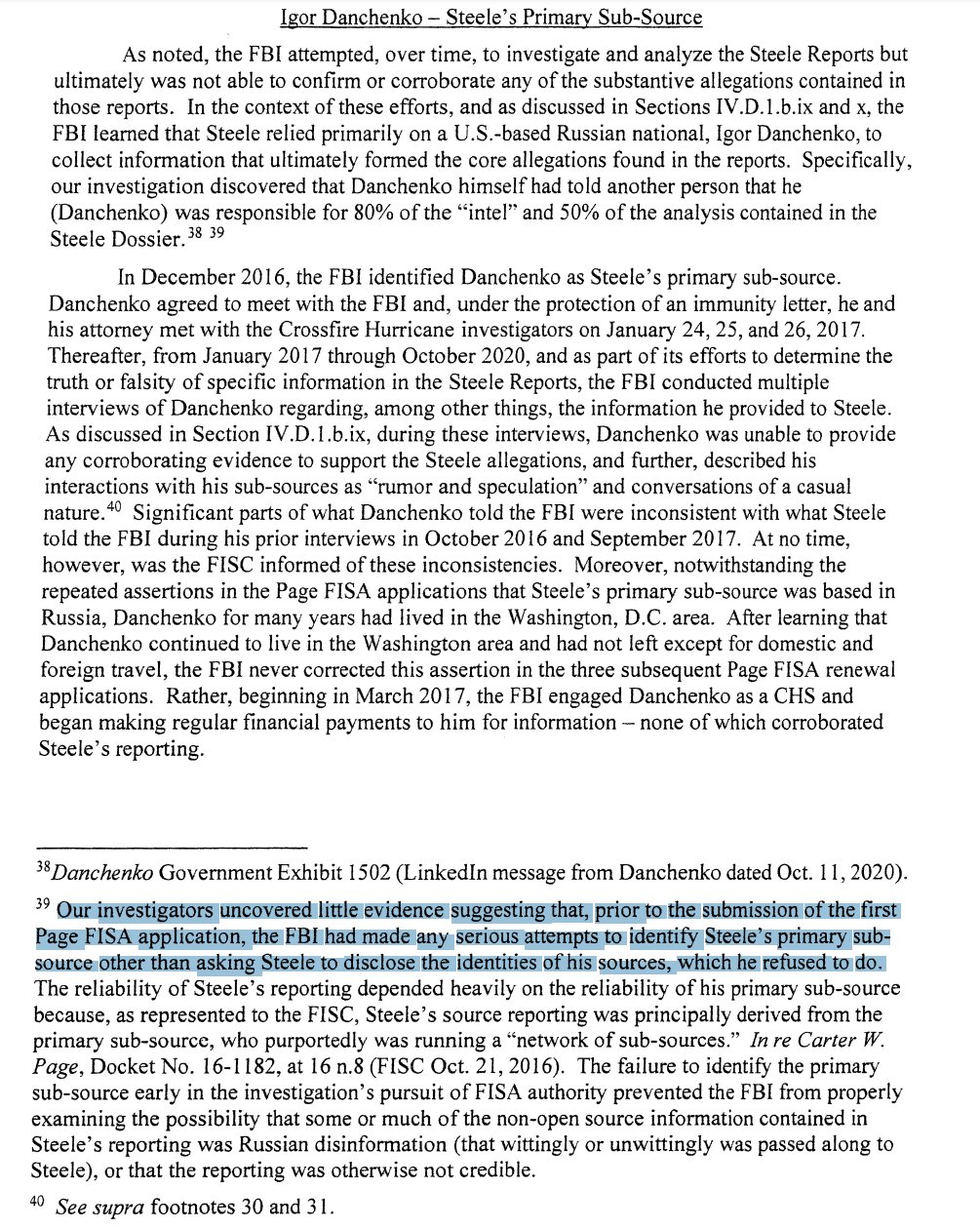 The Final Report from Special Counsel John H. Durham has been released and it's contents are utterly sickening. The highest officials in the US Government WERE BRIEFED that the Trump-Russia-Collusion" claims were false – and they went along with those false claims – for years – nonetheless!
The Final Report makes clear the ENTIRE "Trump-Russia-Collusion" plot was hatched by the Hillary Clinton Campaign. The Clinton campaign plan to link Trump-Russia – known to the CIA – was briefed to then-US President Barack Obama, then US Vice-President, Joe Biden, then-US Attorney General Loretta Lynch, and then-FBI Director James Comey. These individual people (and the CIA) are such pieces of political SHIT, they continued the ruse knowing it was false.
This seems to me to have been an ACTUAL Seditious Conspiracy to overthrow or otherwise undermine a sitting US President (Donald Trump), but the investigation has now taken longer than the five year Statute of Limitations, and NONE of them can be thrown in prison for what they did.
TRIBUNALS for JUSTICE in Tribunals – Executions – Deaths -Resigns – Crimes against Humanity…
TRIBUNALS for JUSTICE in Tribunals – Executions – Deaths -Resigns – Crimes against Humanity – A Traitors Justice Original
Related: Military Intelligence Intercepted The Deep State 16 Year Plan to Destroy America – 8 Years of Obama, Then 8 Years Hillary
White-Hats needed someone loyal for the role of president during this operation. After approving certain clearances, the Military installed Trump into the RNC.
Think about that for a second: Military. Installed. Trump. The 2016 Election was rigged for Hillary. The Media was complicit. Algorithms weren't strong enough to give her the win.
White Hats controlled the election to give the people a fair vote. There was no way Trump could've won without this happening. That's why they were SHOCKED when she lost.
That's why they didn't cover their tracks. They never thought she would lose.
Read More HERE: https://amg-news.com/military-intelligence-intercepted-the-deep-state-16-year-plan-to-destroy-america-8-years-of-obama-then-8-years-hillary/