BREAKING: Woman Pleads Guilty to Attempted Assassination of President Trump
Medeea Greere, an independent publisher, is now on Telegram at https://t.me/AMGNEWS2022 and exists only on reader support as we publish Truth, Freedom and Love for public awareness. Thank You for your support!
---
On Wednesday, a dual citizen of Canada and France admitted to mailing threatening letters containing homemade ricin to then-President Donald Trump as well as eight Texas State law enforcement officials.
Pascale Cecile Veronique Ferrier, 55, sent these ricin-laced letters from Canada in September 2020, then drove to the Peace Bridge border crossing in Buffalo, New York where she reportedly informed a border agent that she was wanted by the FBI for the ricin letters.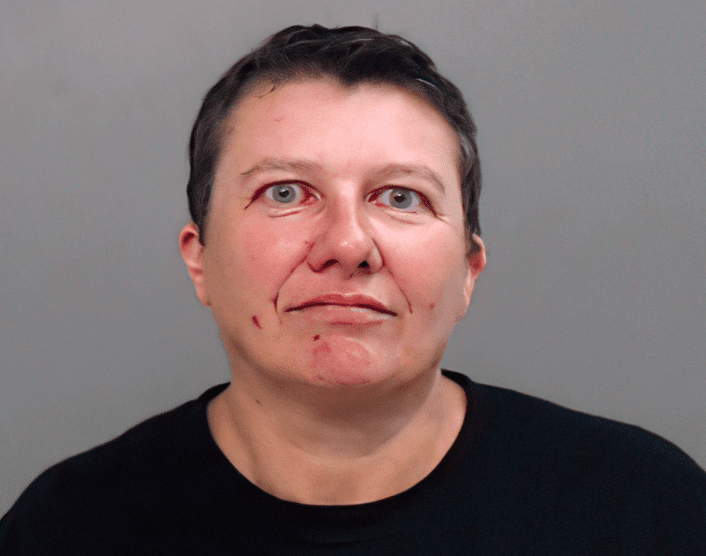 At this time she was in possession of a loaded firearm, hundreds of rounds of ammunition, a stun gun, pepper spray, two knives, and a truncheon.
According to a court filing written by Assistant U.S. Attorney Michael Friedman, Ferrier "was placed under arrest that same day."
In 2019, Ferrier visited Texas and was detained there for about 10 weeks for unlicensed firearm possession, and authorities eventually departed her to Canada. The DOJ reported that she believed the law enforcement officials who she sent the poisoned letters to were responsible for her detention.
According to the DOJ, earlier in September, Ferrier tweeted that someone should "please shoot [T]rump in the face".
The ricin, a naturally occurring poison in castor beans, was reportedly made in Ferrier's home in Canada and then put into envelopes with threatening letters.
The letter that was sent to Trump was messily handwritten in block letters. It said,
"I found a new name for you: 'The ugly tyrant clown.' I hope you like it."

"You ruin USA and lead them to disaster," Ferrier continued. "I have US cousins, then I don't want the next 4 years with you as president."
Ferrier then demanded that Trump "give up and remove [his] application for [the] election."
The French-Canadian then revealed that the letter was poisoned, writing, "I made a 'special gift' for you to help you to make a decision. This gift is in this letter."
"If it doesn't work, I'll find a better recipe for another poison, or I might use my gun when I'll be able to come," threatened Ferrier, who signed the letter "Free Rebel Spirit."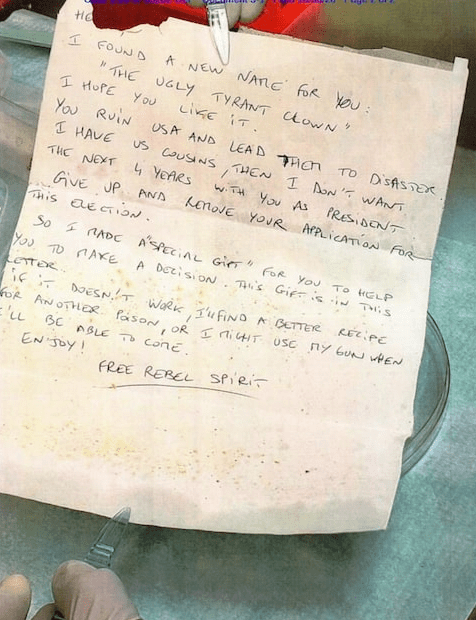 The U.S. Attorney for the Southern District of Texas, Alamdar S. Hamdani, commented on the woman's attempt to poison public officials, saying, "This woman did not succeed in her efforts to poison numerous public officials in our district, but her actions still created fear and stress for many of these dedicated public servants."
"We are grateful for the hard work of the FBI and our other law enforcement partners identifying and apprehending her," added Hamdani.
Matthew M. Graves, the U.S. Attorney for the District of Columbia, condemned the actions of Ferrier. He said, "There is no place for political violence in our country, and no excuse for threatening public officials or endangering our public servants. We hope this resolution will serve as a warning that using our mail system to send a toxic substance and other threats of this type will cost you your freedom for many years."
The Assistant Director in Charge of the FBI Washington Field Office, David Sundberg, also denounced Ferrier's dangerous actions, saying, "In addition to her intended targets, Pascale Ferrier's reckless actions could have harmed postal employees, first responders, or innocent bystanders. Today's plea agreement demonstrates the FBI's and our partners' determination to investigate and bring to justice those who seek to harm or intimidate government officials or law enforcement officers."
Oliver E. Rich, Jr., the Special Agent in Charge of the FBI San Antonio Division, also commented on Ferrier's guilty plea, ensuring the public that "threats against public officials and law enforcement are unconscionable and will not be tolerated."
Ferrier's sentencing hearing has been scheduled for April 26, 2023. If the Court accepts the plea agreements, she will be sentenced to 21 years and ten months in prison.
Trump Posts TERRIFYING CRYPTIC Video That Will Strike FEAR in All Who Ever Attacked Him
Trump video says he will 'run like the wind' and 'tear the s***' out of opponents including Nancy Pelosi and January 6 committee Republicans in wild new spot.
Former President Donald Trump shared a video Monday night to Truth Social that compared him to a lion. The video said the lion will 'run like the wind' and 'tear the s***' out of opponents, labeling them 'jackals'.
Those rivals included House Speaker Nancy Pelosi, Democratic impeachment managers and GOP January 6 committee members.
Read the full article HERE: https://amg-news.com/trump-posts-terrifying-cryptic-video-that-will-strike-fear-in-all-who-ever-attacked-him/