Deep Dive into the FBI's Cover-up: Woke Censorship and the Dangerous Threat to American Freedom
Medeea Greere, an independent publisher, is now on Telegram at https://t.me/AMGNEWS2022 and exists only on reader support as we publish Truth, Freedom and Love for public awareness. Thank You for your support!
---
In a shocking revelation that shakes the very foundation of our democratic values, recent developments have emerged pointing a finger at the FBI's radical transition. Stepping away from its core mission of defending and upholding the constitution, the Bureau seems to be turning into a puppet, controlled by the far-left extremists, endangering the American way of life.
Dramatic as it may sound, it's hard to deny the changing realities. From the crackdown on January 6 protesters to the relentless pursuit of former President Trump, we have seen the FBI acting out of bounds. But perhaps the most ominous sign is the Bureau's growing censorship operations, which, as we uncover today, reach far deeper than most dare to imagine.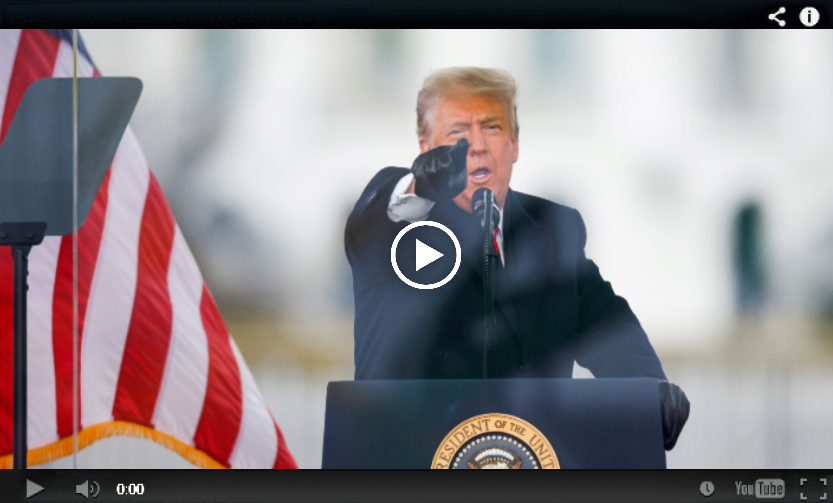 Big Tech & FBI's Stranglehold on Free Speech
In an age where communication is more critical than ever, the sacred right to free speech is under siege. Not from external threats, but from within our own borders. As if the suppression of the conservative voice wasn't bad enough, we now see the grand puppeteers – Big Tech and the FBI – working in unison to muzzle those who dare to voice their opinions.
They say actions speak louder than words, and the evidence speaks volumes. Big Tech companies, Twitter at the forefront, working hand in glove with the FBI and the Department of Homeland Security, censor speech, and ban accounts. They lean on their powers to suppress narratives that do not align with their own. Take, for instance, the New York Post's exposé on Hunter Biden's laptop. With potential repercussions for the election, the FBI coerced Twitter into censoring the story. Is this not a clear case of election interference? Or even worse, is it not the makings of treason?
How censorship works in the USA
Rather than the government directly silencing people, it tells major social media platforms to ban people. The FBI (and others like DHS) sends a long list of people and accounts to be banned! It happens regularly, like once a week; and it's done using an encrypted app called "Teleporter." The list, sometimes a big Excel sheet, is sent to 7 major social media companies — Facebook, YouTube, Twitter etc. Land of the Free! You know, unlike those bad countries like Russia and China.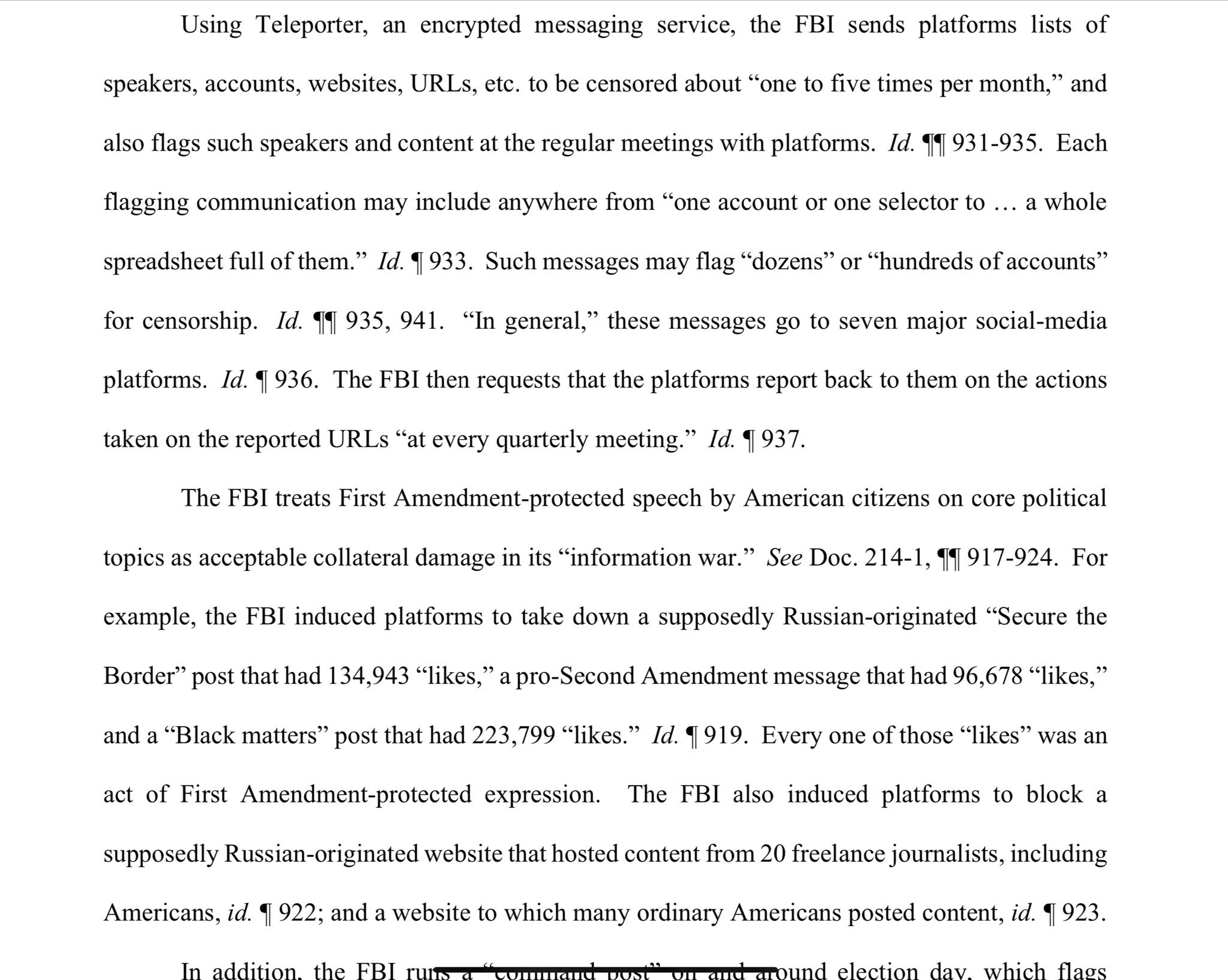 ---
"America First": $10,000 Trump Checks, a Handcrafted Golden Wallet, a Certificate of Authenticity, and the 24K Golden Trump Dollars. These golden notes are a powerful emblem of American freedom and patriotic pride!
Unmasking the FBI's Censorship Conspiracy and Its Dangerous Implications
Lede: In a world where transparency is swiftly becoming a relic of the past, a shocking revelation has come to light. A seemingly impenetrable layer of deceit has been peeled back, unveiling an unsettling narrative. The FBI, long revered as a pillar of justice, stands accused of a deeply troubling shift in operations. Its clandestine involvement with Twitter's censorship policies is merely the tip of the iceberg. As we take a deep dive into this web of conspiracy, what we uncover is a disturbing trail of cover-ups, manipulation, and a blatant disregard for democratic values.
Chapter 1: The Disturbing Landscape: FBI's Cloaked Censorship Agenda

It's no longer news that the once esteemed Bureau has been treading murky waters. However, the extent of the FBI's involvement in controlling narratives, especially via social media platforms like Twitter, leaves us reeling. The echoes of democracy and freedom of speech sound hollow when contrasted with the blatant favoritism the FBI showed towards Biden. Their aggressive suppression of dissenting voices is as blatant as it is alarming.

However, the issue that demands our immediate attention isn't merely their partisan behavior. What truly sparks outrage is their audacity to cover their tracks, acting like petty criminals caught in the act. This scandal isn't just about a lapse in judgment or a stray from the path of righteousness, it's about the systematic disintegration of our fundamental rights.

Chapter 2: A Staggering Reveal: Roth, the FBI, and Their Sinister Collaboration

To truly understand the magnitude of the problem, we need to delve into specific instances that underline this allegation. Enter Yoel Roth, an information control officer with radical far-left LGBT ideologies. Through his anonymous Twitter account, which serves as a platform for perversion and propaganda, Roth engaged with the FBI more than 150 times to strategize and push an anti-Trump agenda.

This connection, brought to light by notable journalists Matt Taibbi and Bari Weiss, paints a stark picture of the vast deception that is at play. It isn't just about manipulating the narrative; it's about an unscrupulous coalition between the FBI and Roth, working together to steer public opinion and trample on the ideals of democracy.

Chapter 3: The Veil of Secrecy: FBI's Attempt to Guard Their Hidden Agenda

In a twist that would be comical if it weren't so disheartening, the FBI now finds itself on the defensive. A group named 'Protect the Public's Trust', seeking information about the Bureau's involvement, has been met with resistance. The FBI accuses the group of infringing upon their privacy and claims the right to deny access to files – an attempt to stonewall a Freedom of Information request pertaining to records we know exist!
The Future Stands Uncertain
So, what happens next? Protect the Public Trust is calling for all FBI records of communication with Twitter from January 2020 to November 2022, exercising their right under the FOIA laws. The nation is watching closely, waiting for the FBI's next move. Will they attempt to dispose of the evidence, or will they confess to the depth of their manipulation?
Each passing day brings us closer to the truth. As we peel back the layers of this conspiracy, we can only hope for justice.
In conclusion, this twisted saga isn't just about an agency's misdirection, or Big Tech's overreach, or even about the preservation of free speech. This story is about us, the American people, and our fundamental rights. It's about the very essence of our democracy. As we shed light on these shadowy corners of deception and manipulation, we have the power to bring about a change.
We must remember, our future depends on our courage to stand up to these entities, to protect the ideals that make us who we are. To paraphrase the words of Thomas Jefferson, the price of our freedom is eternal vigilance. So, let's stay vigilant, stay tuned, and, most importantly, stay strong.
After all, it's not just about uncovering the depths to which this rabbit hole goes. It's about ensuring it never happens again.
In the spirit of true patriotism, let us stand against the tyranny of censorship and the erosion of our fundamental rights. For only then can we truly protect the American way of life.
Defending Our Democracy
As we lift the veil on this conspiracy, we bear witness to a distressing spectacle – an organization entrusted with safeguarding our nation, betraying our trust. The principles of transparency, free speech, and democratic accountability have been trampled underfoot, all in a bid to control narratives and consolidate power.
This expose isn't just a critique of the FBI's actions; it's an urgent call to defend our democracy, to fight for our right to transparency, and to ensure that power doesn't corrupt unchecked. The price of freedom is eternal vigilance. Now, more than ever, we must strive to protect that freedom from those who seek to diminish it.
As we traverse through this disquieting landscape, one thing is abundantly clear – this isn't just a fight for justice; it's a battle for the soul of our nation. And in this battle, we must stand undeterred, because the cost of complacency is far too high.
The Hidden Chronicles of The Devolution Plan: Declassifying Secrets, Unraveling Truths, Military Might – The Last Line of Defense (video)
Amid the shadows of geopolitics, a tantalizing narrative is emerging – the classified U.S. military operation known as the Devolution Plan. Woven with strands of high-stakes strategy and brimming with covert power dynamics, this clandestine maneuver, designed to preserve President Donald Trump's administration, is a story yet to be fully told. Read on, and dare to glimpse into a world shrouded in secrecy, where whispers of democracy's survival and declassified revelations echo!
The covert world of the Devolution Plan is an intricately designed labyrinth that reaches far beyond the realm of your average military strategy. Secretly crafted by the U.S. military, this operation was ostensibly concocted to safeguard and uphold President Donald Trump's administration against unforeseen threats and dark machinations. However, what truly lies beneath the surface of this classified strategy? Why were figures like Ezra Cohen Watnick given such unbridled authority? These burning questions are merely the tip of the iceberg!
Read the full article HERE: https://amg-news.com/the-hidden-chronicles-of-the-devolution-plan-declassifying-secrets-unraveling-truths-military-might-the-last-line-of-defense-video/
Also: Delving Into the Depths: Haiti, Clinton, Mossad, Obama Gate, FISA-Gate and The Perfect Storm of Global Intrigue – https://amg-news.com/delving-into-the-depths-haiti-clinton-mossad-obama-gate-fisa-gate-and-the-perfect-storm-of-global-intrigue/
Disclaimer: The views expressed in this article may not represent the official views of Medeea Greere or the American Media Group. Stories filed under Opinion contain information from various sources that may be both, verified and unverified. Medeea Greere and the American Media Group do not make any claims as to the validity of the information expressed in the opinion section, however we do encourage the reader to do further research on their own and we hope that you will share your findings with us. The mission for the truth requires a collective effort. All statements, claims, views and opinions that appear on this site are always presented as unverified and should be discerned by the reader. We do not endorse any opinions expressed on this website and we do not support, represent or guarantee the completeness, truthfulness, accuracy, or reliability of any content posted on this website.