This Good News of the Week is by CJ Truth on Telegram. Help share the great news! Also find Trump statement on Fauci and the Swamp Runs Deep!
Good News of the Week, June 8, 2021:
1. President Trump was greeted with a standing ovation at the NC GOP State Convention. He covered a lot of topics and vowed, "We're going to take back our country." You can watch his speech on RSBNetwork.com.
---
2. At the same convention, Georgia's RINO governor, Brian Kemp, was greeted by a chorus of loud, sustained boos. Kemp spoke for approximately 30 seconds before it was quiet enough for those in the press area to hear him speak.
---
3. Senior Advisor of the Trump Administration, Jason Miller, confirmed that President Trump will launch his own social media platform this summer. It is in the beta testing phase now and will launch sometime between Independence Day and Labor Day.
---
Also: GITMO Prison Ready For Massive Swamp Draining – Prison Barges Sent To Gitmo – The List of Elites and Democrats Tribunals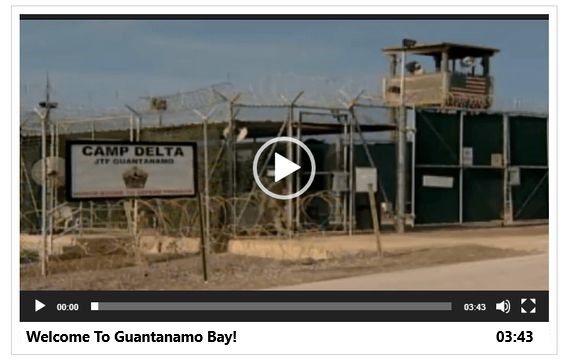 ---
4. President Trump has been issuing a lot of statements this week. After Facebook announced that they will censor him for two years, he responded by saying, "Next time I'm in the White House there will be no more dinners, at his request, with Mark Zuckerberg and his wife. It will be all business!"
---
5. Hundreds of pages of Fauci's e-mails were obtained through a FOIA request. Since their release, Fauci has been forced to admit that COVID-19 could have come from the Wuhan lab, his upcoming book has been scrubbed for pre-order from Amazon and Barnes & Noble websites, and Steve Scalise has sent a letter to Democrats demanding they call Fauci to testify before Congress.
---
6. Georgia Senator Burt Jones will lead a delegation of GA lawmakers to Arizona early this week. They will meet with their counterparts, discuss election integrity and how to replicate the audit, tour the audit facility and get a brief from the AZ forensic audit team.
---
7. A federal judge overturned California's 32-year ban on "assault rifles." The judge called the ban a failed experiment that violates people's constitutional right to bear arms and that deprives law-abiding Californians of weapons commonly allowed in most other states and by the U.S. Supreme Court. On December 6th and January 6th , President Trump's Words Shook the World. . .
---
8. A survey of more than 40,000 found that 31% of Americans are either unwilling to get the jab or uncertain that they will get it.
---
9. CNN continues to lose viewers. Compared to last May, they have lost 44% of their daytime viewers and 45% of primetime viewers. They are not even on the list of the top five primetime cable networks anymore. More people are now watching HGTV in the evenings than CNN.
---
10. Twitter deleted a tweet from the Nigerian president, so Nigeria banned Twitter from operating in their country "indefinitely."
---
11. General Charles A. Flynn, General Michael Flynn's younger brother, has assumed command of U.S. Army Pacific.
---
12. Surry County, NC, has voted to ban all Coca-Cola vending machines in its office buildings over the soft drink maker's criticism of Georgia's new laws to strengthen election integrity.
---
Also: It Was Never About the Election – Exposing the Pedophiles in Government and Society – Must-see video
---
13. Governor Greg Abbott has issued a disaster declaration in Texas' southern border counties due to the overwhelming influx of illegal immigrants. Abbott has also ordered the a crackdown on human trafficking, smuggling and criminal trespassing while enforcing all federal and state laws to confont the crisis.
---
14. Some county sheriffs in Texas have begun charging illegal aliens for child endangerment, trespassing, and evading arrest on foot.
---
15. Three Virginia Sheriffs have switched from Democrat to Republican due to Democrat politicians' attacks on police officers at the state and national levels.
---
16. The best news is that we have a Savior named Jesus who came into the world and died for us on the cross so we could have eternal life. "Believe in the Lord Jesus, and you will be saved–you and your household." Acts 16:31
---
This report was brought to you in partnership with "Good News of the Week."
It Was Never About the Election – Exposing the Pedophiles in Government and Society. Watch the video below:
You Won't Believe What's NEXT? David Icke Reveals All. . . Video below:
---
Copyright Infringement: Digital Millennium Copyright Act of 1998 ("DMCA")
November 15, 2022 © US and EU all rights reserved. Permission to use this article in its entirety is granted under the condition it is linked to its source at American Media Group.
Medeea Greere, an independent publisher, is now on Telegram at https://t.me/AMGNEWS2022 and exists only on reader support as we publish Truth, Freedom and Love for public awareness. Thank You for your support!