How the Deep State Launder Classified Docs
Medeea Greere, an independent publisher, is now on Telegram at https://t.me/AMGNEWS2022 and exists only on reader support as we publish Truth, Freedom and Love for public awareness. Thank You for your support!
---
We have to admit to asking ourselves the same question that journalist Cesare Sacchetti asked on his Telegram channel – if it's really Biden's DOJ, etc., how come he got exposed for this in the first place? And why this timing?
Backchannels say that Biden is due to be impeached and/or dumped very soon.
The White House Counsel revealed that the Biden's Wilmington home in Delaware does not have any visitor logs that track who comes and goes. There is no information pertaining to who could have had access to these insecure classified documents.
You are welcome to believe this is coincidental, but it's starting to look like it was by design. (By whom, though?) Trump dropped this on Truth Social, juxtaposing how secure Mar-a-Lago is to how laughably insecure Biden's document stashes are. Trump is hunting this by design.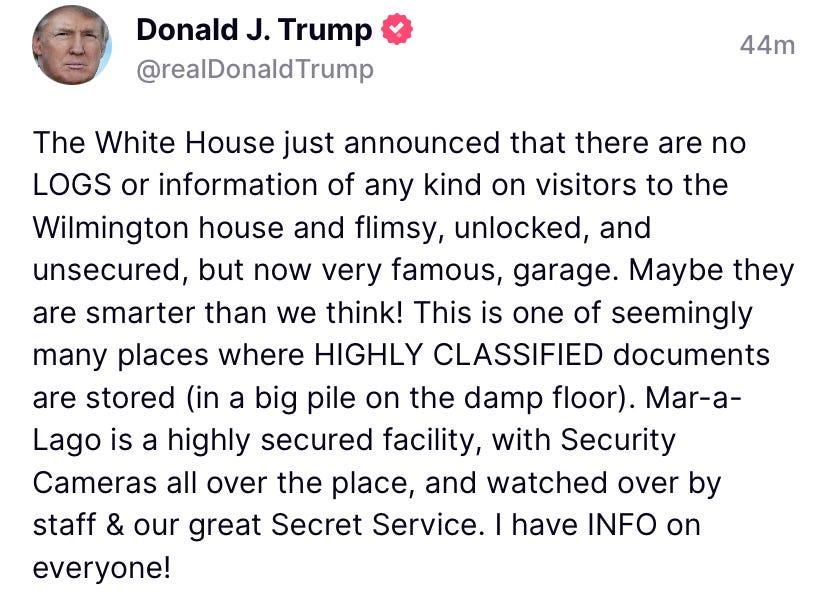 Trump is insinuating that the Deep State have a Classified Doc laundering operation. They store the classified docs at an insecure and unmonitored location, sell access to the location (garage/UPenn office, etc.) so there is no direct hand off of documents, Biden plays dumb, plausible deniability.
There's no record, log, or camera footage of who had access to these documents. Biden acts like he didn't know the docs were there when, in fact, they were selling access to State secrets. The concept fits the Deep State playbook for how they get away with everything else. Laundering.
PATRIOT ALERTS: YOUR TRUMP TRB MEMBERSHIP HANDBOOK IS WAITING TO BE IN YOUR HAND!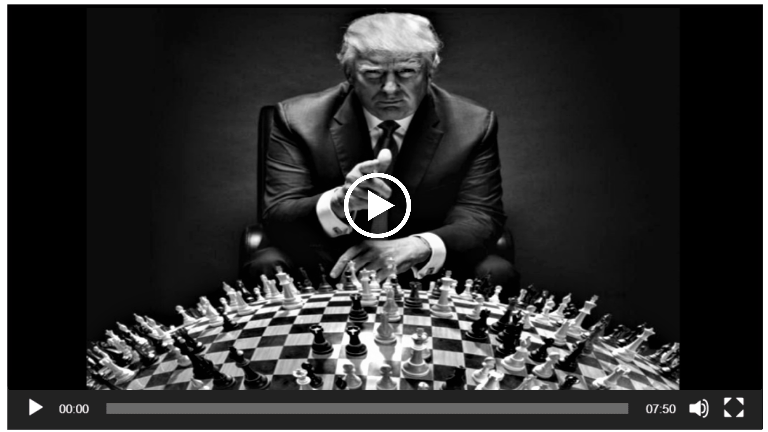 It is also strikingly similar to Hillary Clinton's mishandling of State secrets on her insecure server in her bathroom. Hillary had the server connected to IMAP, connected to the cloud, essentially giving free access to anyone who knew about the server. Hillary plays dumb, plausible deniability.
With Hillary there was no direct email or digital handoff. With Biden there is no direct document handoff because it's at a stash house with no logs or surveillance.
This is how corrupt politicians circumvent the law and sell State secrets for profit.
Confiscating and selling classified documents is not only a treasonous act in of itself, it's also a direct threat to NATSEC. This would certainly qualify as "High Crimes and Misdemeanors" needed to impeach.
The DNC have no choice. They will have to move on from Biden or risk going down with the ship.
••••
Trump Posts TERRIFYING CRYPTIC Video That Will Strike FEAR in All Who Ever Attacked Him
Trump video says he will 'run like the wind' and 'tear the s***' out of opponents including Nancy Pelosi and January 6 committee Republicans in wild new spot.
Former President Donald Trump shared a video Monday night to Truth Social that compared him to a lion. The video said the lion will 'run like the wind' and 'tear the s***' out of opponents, labeling them 'jackals'.
Those rivals included House Speaker Nancy Pelosi, Democratic impeachment managers and GOP January 6 committee members.
Read the full article HERE: https://amg-news.com/trump-posts-terrifying-cryptic-video-that-will-strike-fear-in-all-who-ever-attacked-him/