LIVE UPDATES IN PROGRESS – Israeli Defense Minister to Troops: "The Order will soon be given" Hal Turner Report
Medeea Greere, an independent publisher, is now on Telegram at https://t.me/AMGNEWS2022 and exists only on reader support as we publish Truth, Freedom and Love for public awareness. Thank You for your support!
---
Israeli Defense Minister Yoav Gallant visited Israeli Troops outside Gaza today, and told them directly "The order (to invade) will soon be given."  This comes as Hezbollah reveals they have destroyed ten Merkava Tanks in the north, so far.
The situation in Israel right now is bad and getting worse.  Rocket attacks from HAMAS in the Gaza Strip continue, albeit at a very reduced pace.  Skirmishes in the north between Israeli forces and Hezbollah in Lebanon, also continue.
Knowing full well what's coming, the U.S., U.K. Canada, France, Australia, Sweden and Germany have told their citizens to leave Lebanon.  So this situation is getting worse by the hour.
The USS Dwight D. Eisenhower Aircraft Carrier and its Strike Group, heading from the US to the eastern Mediterranean to reinforce Israel, transited the Strait of Gibraltar YESTERDAY morning, as shown in the photo below.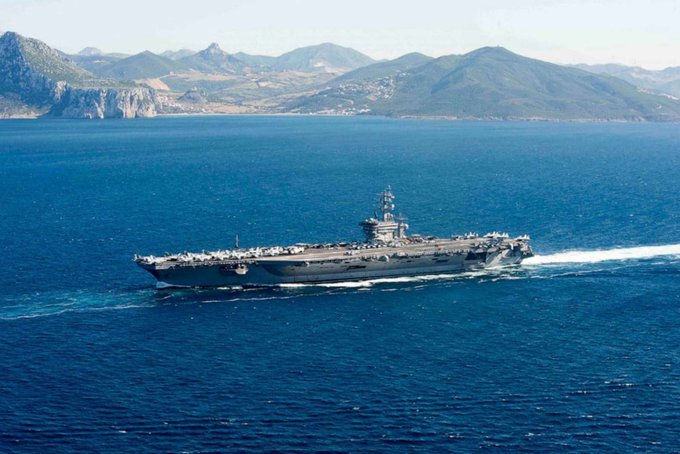 Within ONE day, the Eisenhower will be where it wants to be in the eastern Mediterranean Sea as it teams-up with the USS Gerald R. Ford Aircraft Carrier and its Strike Group.
Once both ships and Strike Groups are on-station, about 160 US war planes will be available from those vessels, along with gigantic missile capacity from Cruisers and Destroyers in the two strike Groups.   What no one has mentioned: Aircraft Carrier Strike Groups are __usually__ accompanied by US Nuclear Submarines.
While no US Submarines have thus far been seen, that's the whole purpose of them being submarines.   Everyone knows we have them, and they are probably already there, but no sign . . . unless and until it becomes necessary.   By then, it's too late for the enemy.
With President Joe Biden having visited Tel Aviv yesterday, and the Israeli War Cabinet having already said a ground invasion of Gaza is "imminent" it looks to many observers as though the next 48 hours will see if the spark that was lit when HAMAS began attacking Israel, ignites a large, regional war or, God Forbid, a World War.
Readers are strongly encouraged to have Emergency food, water, medicines they need to live on.  Fueled-up vehicles, an electric generator to keep the refrigerator working if the power grid is attacked or goes down through some act of "Jihad", and spare fuel for that generator.
Readers are also strongly encouraged to get COMMUNICATION GEAR; a CB or a HAM Radio, so you can communicate locally and get information from the rest of the world, especially with Shortwave/HAM radio.
Of course, have some cash money in your possession.  If the grid goes down, or if some Cyber-Jihad-Attack takes out the financial systems, credit/debit/SNAP/EBT Cards won't work.   Cash will be king.   Those who have some, will eat.  Those who don't won't.  On this issue, just this morning, hundreds of stocks had to stop trading on the London Stock Exchange due to an "incident."  Cyber-Attack?  Test before such an attack?   
Don't kid yourselves; the people fighting in the Middle East have plans – and real capabilities.  Make sure you have cash money in case THEY crash our systems.
Lastly, clean your guns, zero your sights, and make certain you have sufficient ammunition.  None of us knows if, where, or when, some Nutjob will decide his own version of Jihad, and explode in rage trying to hurt innocent people.   We all need to be ready to protect ourselves, our families, our property, and our nation.
Get right with God.
Joe Biden is set to address the nation tonight at 8:00 PM EDT regarding the situation with Israel, and the losing situation with Ukraine; another war he started.
Israel has begun evacuating several of its Embassies in several different Middle East countries; including in Bahrain, Jordan, Morocco, and Egypt.   Sources say Israel expects these nations to either erupt in violence when the IDF invades Gaza, or even DECLARE WAR ON ISRAEL when the Gaza invasion begins.
The US State Department has just issued its first-ever "Worldwide Travel Alert" warning Americans around the world to be careful. 
Western Nations Issue Immediate Evacuation Advisory for Lebanon  
Evacuation Urgency:  Immediate Departure: The USA, UK, and Germany have now escalated their travel warnings, advising citizens in Lebanon to leave immediately while commercial options are available.
Israel has decided to recall all its diplomats, including the ambassador, from Turkey on security grounds.
— Israel's Economy Minister says hostages and civilian casualties will be secondary to the priority of destroying Hamas, adding that its tunnel network will become the 'world's biggest cemetery'.
*Recommendations by the Department of Emergency Services and Public Protection offer the following tips that all residents take three simple preparedness steps: Get a kit, make a plan, and stay informed".*– Watch This FREE Video
********** BULLETIN **********
What is being called a "Massive attack" using "dozens" of drones and "dozens" of missiles is in-progress against the Ain al-Assad base in western Iraq- a US base.
— US Navy vessel near Yemen, fired-upon; intercepted "multiple projectiles"  USS Carney, operating in the Gulf of Aden, not hit.
— SECOND U.S. Base comes under drone attack; the Al-Tanf base, located in Homs Governorate, SYRIA was targeted by three drones, but the extent of damage is still unknown.
LIBYA OFFERS WEAPONS TO HAMAS
ASS-KISSER POLITICIANS
The US Senate adopts a draft resolution supporting Israel with the support of 97 members, without any opposing vote.   Do you think it ever occurs to the ass-kissing-morons that it was __THEIR__ votes on Resolutions giving money to HAMAS, that ___caused___ this trouble to begin with?   Do you think these political nitwits, even stop to think about the destruction they cause?
Poor upbringing.  That's what I think it is.  I think their parents did a very poor job raising these people.  
This is what we get for voting these dingbats into office.  Elect morons, get stupid policies.  
U.S. Central Command (CENTCOM) has announced that a number of US soldiers were injured in an earlier drone attack on the Al-Tanf base in Syria.
The Missiles launched by the Houthis in Yemen, which were Intercepted by the U.S. Navy over the Red Sea, are believed to have possibly been heading towards Israel, but that Intelligence Analysts are attempting to find Evidence.
SOURCE: Hal Turner