All Ukrainian border guards protecting a tiny island in the Black Sea from Russian invaders were killed yesterday after refusing to surrender to warmonger Vladimir Putin's forces and defiantly telling a Kremlin warship: 'Go fuck yourselves!'.
The small contingent of soldiers, reportedly 13 in number, were posted on Snake Island in the Odessa region near NATO ally Romania and were defending the territory after Moscow launched its full-scale invasion of Ukraine early Thursday morning.
In a radio message, the soldiers were told by a sailor on board the vessel: 'This is Russian military warship. I suggest you lay down your weapons and surrender to avoid bloodshed and needless casualties. Otherwise, you will be bombed.' However, the Ukrainian troops defiantly refused to give up the territory, and instead replied: 'Go fuck yourselves!'.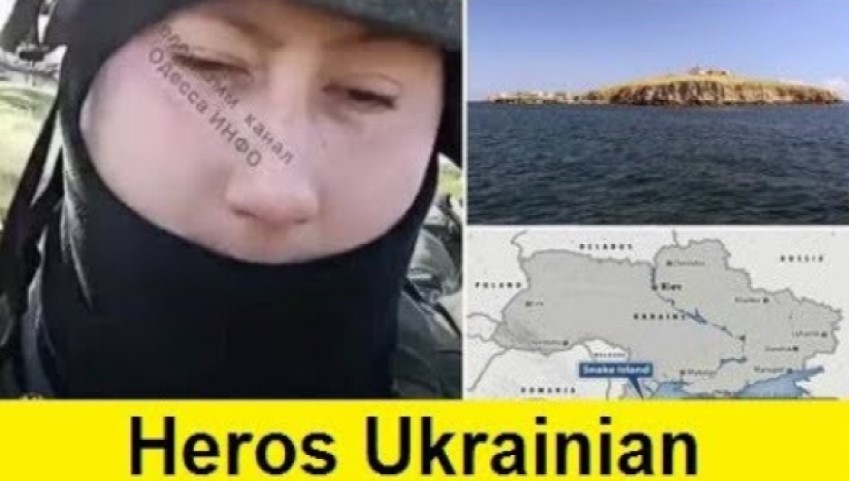 The Russian soldiers on radio are heard muttering the curse back at the Ukrainians, before all the border guards were killed in an aerial bombardment. Their deaths were later acknowledged by Ukraine's president Volodymyr Zelenskyy.
A video circulating on Twitter also appeared to show the moment that the island was shelled. It showed a Ukrainian soldier staring at a camera before a shell landed nearby.
On Thursday afternoon, Ukraine's interior ministry had said Snake Island, which is also called Zmiinyi, had been attacked by Russian forces.
The island is ruled by Ukraine but sits just miles from the coast of Romania. Snake Island is strategically important because it will allow Russia to claim territorial waters stretching 12 nautical miles out to sea. They cover important shipping channels to the port cities of Odessa, Mykolaiv and Kherson. After taking the island, Russia would have been able to cut off the shipping channels, isolating Ukraine from international markets and depriving its economy of vital trade revenues as it seeks to defend itself.
Russia is pressing its invasion of Ukraine to the outskirts of the capital today after unleashing airstrikes on cities and military bases and sending in troops and tanks from three sides in an attack that could rewrite the global post-Cold War security order.
Explosions sounded before dawn in Kyiv as Western leaders scheduled an emergency meeting and Ukraine's president pleaded for international help.
The nature of the explosions was not immediately clear, but the blasts came amid signs that the capital and largest Ukrainian city was increasingly threatened following a day of fighting that left more than 100 Ukrainians dead.
Zelenskyy said the government had information that 'subversive groups' were encroaching on the city, and US Secretary of State Antony Blinken said Kyiv 'could well be under siege' in what US officials believe is a brazen attempt by Putin to install a puppet regime.
In other developments:
Global markets tanked with Russia's ruble sliding to its lowest value ever;

The price of oil shot up to over $100 per barrel;

The EU will freeze Russian assets, halt access to financial market and target 'Kremlin interests';

G7 called Putin a 'threat to global order' vowing 'severe and coordinated economic and financial sanctions';

Joe Biden announced new sanctions targeting Russian banks, exports and military;

Russia's largest bank Sberbank will be severed from the US financial system, and full sanctions are imposed on four other financial institutions;

Boris Johnson called the invasion a 'catastrophe for our continent' and branded Putin a 'dictator';




China repeated calls for talks but refusing to criticise Russia's attack;

Moldova declared a state of emergency;

Turkish President Recep Tayyip Erdogan said invasion is 'heavy blow' to regional peace;

NATO ambassadors scheduled an emergency meeting on Thursday;

UN Security Council will discuss a resolution condemning the invasion;

Ukraine demanded the world banish Russia from SWIFT banking system.
---