POLICE STATE: New York City Police Plan to Use Drones to Monitor Backyard Parties this Weekend – Welcome to Democrat Controlled Cities…
Medeea Greere, an independent publisher, is now on Telegram at https://t.me/AMGNEWS2022 and exists only on reader support as we publish Truth, Freedom and Love for public awareness. Thank You for your support!
---
By Medea Greere
The Sky's Dark Secret: How NYPD's Drone Invasion Exposes the Threat to Our Liberties
When you think of a barbecue, images of grilled meats, cold beverages, laughter, and perhaps a little summer music may come to mind. But this weekend, in New York City, those scenes might be tainted by the silent hum of a new uninvited guest – a surveillance drone.
New York, once celebrated for its vibrancy and diversity, is becoming ground zero for an Orwellian nightmare. With the NYPD announcing its intent to use drones to monitor backyard festivities, we are seeing the Democrat-led cities take a dangerous turn toward a dystopian future.
This move isn't just a breach of privacy; it's an assault on the very ideals that America stands for.
"If a caller states there's a large crowd, a large party in a backyard, we're going to be utilizing our assets to go up and go check on the party," said Kaz Daughtry, the assistant NYPD Commissioner.
It's chilling to think that a simple gathering of family and friends might be subjected to police scrutiny from the skies.
It's no surprise that such drastic measures drew immediate and intense backlash from the guardians of civil liberties.
"It's a troubling announcement and it flies in the face of the POST Act," expressed Daniel Schwarz, a key player at the New York Civil Liberties Union.
►This is 'The Safest House in America': How to Protect Yourself, Your Family, and Your Home. Video below: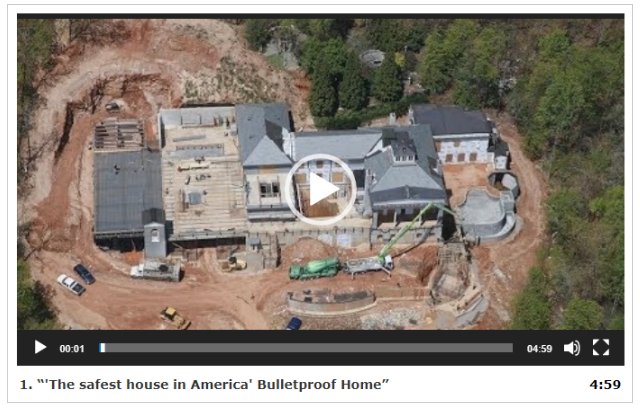 For those unfamiliar with the POST Act, it was put in place in 2020, demanding that the NYPD transparently disclose its surveillance tactics. What we're seeing now appears to be a flagrant disregard for those policies. One must wonder, are we living out some sort of sci-fi horror plot?
If you're feeling this is an isolated incident, think again. This aggressive move was announced during a security briefing focused on J'ouvert, a celebration marking the end of slavery. What irony! A celebration of freedom and emancipation now overshadowed by hovering drones, which may very well symbolize a new form of oppression.
And here's the shocker: New York isn't alone.
Like many cities under Democratic control, it's diving headfirst into the abyss of drone dependency. Just to give you a snapshot, this year has seen the NYPD use drones 124 times for public safety, which is a staggering jump from a mere four times in 2022. Are our skies being conquered by these robotic invaders?
Mayor Eric Adams, having worn the NYPD uniform once, seems intent on driving the city down this treacherous path. Following a recent trip to Israel, Adams has expressed his desire for NYC to further embrace the "endless" potential of drones. But at what cost?
This Step-by-Step Guide Will Teach You How To Construct Your Very Own Low-Cost Bunker Right In Your Own Backyard
Albert Fox Cahn, the executive director of the Surveillance Technology Oversight Project, brings up a valid concern,
"One of the biggest concerns with the rush to roll out new forms of aerial surveillance is how few protections we have against seeing these cameras aimed at our backyards or even our bedrooms."
Imagine, for a moment, the sanctity of your home being invaded, your intimate moments being watched. It's chilling.
And while around 1,400 police departments across America have jumped on the drone bandwagon, regulations appear to be trailing far behind. The American Civil Liberties Union has alarmingly reported that drone usage is "poised to explode" among police departments.
In this game of shadows, clarity and transparency remain elusive. Cahn rightly points out,
"Clearly, flying a drone over a backyard barbecue is a step too far for many New Yorkers."
Indeed, it is. And perhaps, it's a step too far for America.
So, as the weekend is here, and as you marinate your steaks and chill your drinks, remember to look up. That humming you hear might just be the herald of a new era — one where freedoms are traded for security, and where the skies are no longer just filled with stars and dreams but also with silent, watchful eyes.
CIA "Threat List": Names 8 MILLION AMERICANS Who WILL BE DETAINED or EXECUTED When MARTIAL LAW Is Imposed (VIDEO)
Martial Law is Coming | Civil War is Coming to America
The world reels with the turmoil of Covid-19, Russo-Ukrainian war, geological disaster, and economic collapse, while Americans continue to submerge themselves in illusions "of safety and immunity".