Protecting Our Children: The Dangerous Influence of "Conversations with God"
Medeea Greere, an independent publisher, is now on Telegram at https://t.me/AMGNEWS2022 and exists only on reader support as we publish Truth, Freedom and Love for public awareness. Thank You for your support!
---
In today's world, where the influences on our children come from all directions, it's crucial for parents, especially those who are patriotic and God-loving, to be vigilant. We are facing a threat that disguises itself as a harmless book but is, in fact, a perilous deviation from the Word of God. This alarming book, known as "Conversations with God," has infiltrated our schools through the Scholastic Book Club, and it's time for us to take action. Read on to discover the truth behind this dangerous publication and what you can do to protect your children.
Dear concerned parents and guardians, if there ever was a time to be on high alert, it is now. Our children are precious, and their well-being should always be our top priority. In recent times, a book has emerged, one that claims to offer "Conversations with God." It's a book that Oprah Winfrey herself has promoted, and it's gaining popularity among young readers. However, beneath its seemingly innocuous title lies a grave threat to the values and beliefs we hold dear.
This article aims to shed light on the book "Conversations with God" and its author, Neale D. Walsch, whose teachings not only contradict the infallible Word of God but also endanger the moral and spiritual development of our children. We will delve into the concerning content of these books, their influence on impressionable young minds, and the urgent need for awareness and action.
Understanding the Deceptive Appeal: At first glance, "Conversations with God" and its teen-oriented counterpart, "Conversations with God for Teens," may appear harmless. Their titles suggest a dialogue with the divine, a notion that may initially seem intriguing and spiritually enriching. However, it's imperative that we heed the age-old wisdom:
"Don't judge a book by its cover or title."
The Deception Unveiled: Let's take a closer look at the content of these books and understand why they pose a grave danger to our children's faith and values.
False Answers Disguised as Divine Wisdom: The author, Neale D. Walsch, claims to provide answers to questions posed by children in the "voice of God." However, the answers he offers are far from the biblical truth. For instance, when a young girl asks why she is a lesbian, Walsch asserts that it's because she was 'born that way' due to genetics, comparing it to inherent traits like being right-handed or having brown eyes. He encourages her to "celebrate" her differences.
Promoting Moral Relativism: Another disturbing aspect of these books is their promotion of moral relativism. When a girl inquires about living with her boyfriend and her parents' concerns about sin, Walsch dismisses the concept of sin entirely. He asks, "Who are you sinning against? Not me, because you have done nothing wrong." This blatant disregard for biblical values undermines the very foundation of our faith.
Rejecting the Notion of Forgiveness: Perhaps the most alarming aspect of Walsch's teachings is his denial of God's forgiveness. He claims, "I do not forgive anyone because there is nothing to forgive… There is no such thing as right or wrong." This statement directly contradicts the core principles of Christianity and promotes a dangerous moral relativism that is contrary to the teachings of the Bible.
WARNING: The Vatican Demanded this Be Kept Under Lock and Key: "The Divine Prayer – One Minute Prayer From Biblical Times" – VIDEO BELOW: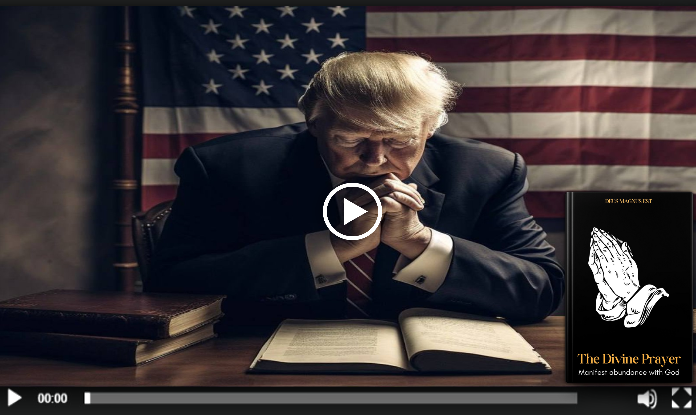 The Danger to Our Children: Now that we understand the deceptive content of these books, let's explore why it is so critical for us to be concerned and take action.
Influence on Vulnerable Young Minds: Our children are at a vulnerable stage in their lives, where they are still forming their beliefs and values. Books like "Conversations with God" can have a profound impact on their understanding of spirituality, morality, and the Word of God. They may be easily swayed by the author's claims, putting their faith at risk.
Scholastic Book Club Distribution: One of the most concerning aspects of this issue is that these books are being distributed to school children through the Scholastic Book Club. This means that they are readily accessible to our children within the educational system, where we trust they will receive a balanced and morally sound education.
Protecting Our Children from Spiritual Harm: As patriotic and God-loving parents, it is our duty to protect our children from harmful influences. The teachings presented in "Conversations with God" are a direct assault on our faith, and we cannot afford to be complacent. Our adversary, the devil, seeks to devour our young, and we must stand guard against this threat.
Taking Action: Now that we are aware of the danger posed by "Conversations with God," it's time to take action to safeguard our children and their faith.
Educate Yourself: First and foremost, take the time to familiarize yourself with the content of these books. Understanding the material will enable you to have informed discussions with your children and provide counterarguments to the misleading teachings.
Communicate with Your Children: Engage in open and honest conversations with your children about their reading materials. Encourage them to ask questions and express their concerns. By fostering a dialogue, you can help them discern right from wrong.
Engage with Schools: If you discover that these books are being distributed at your child's school, do not hesitate to voice your concerns with the school administration. It's essential to advocate for the removal of such material from educational environments.
Strengthen Their Faith: As parents, it is our responsibility to instill a strong foundation of faith in our children. Regularly attend church services, participate in family devotions, and reinforce the teachings of the Bible. Equip your children with the knowledge and understanding to discern false teachings.
In conclusion, "Conversations with God" and its companion books are not what they seem. They are deceptive and dangerous publications that undermine the Word of God and threaten the spiritual well-being of our children. As patriotic and God-loving parents, we must rise to the occasion, protect our children, and ensure that their faith remains unshaken.
By educating ourselves, communicating with our children, engaging with schools, and strengthening their faith, we can combat the insidious influence of these books. Our children are our future, and it is our duty to ensure that they grow up in the light of God's truth, shielded from the darkness of false teachings.
In these challenging times, let us stand united in our commitment to safeguarding the faith and values that define us as patriotic and God-loving parents. Together, we can protect our children from the dangers that lurk in the shadows, ensuring that they continue to walk in the path of righteousness and eternal light.