CDC: 11,940 DEAD 618,648 Injuries and 1,175 Unborn Babies DEAD Following COVID-19 Shots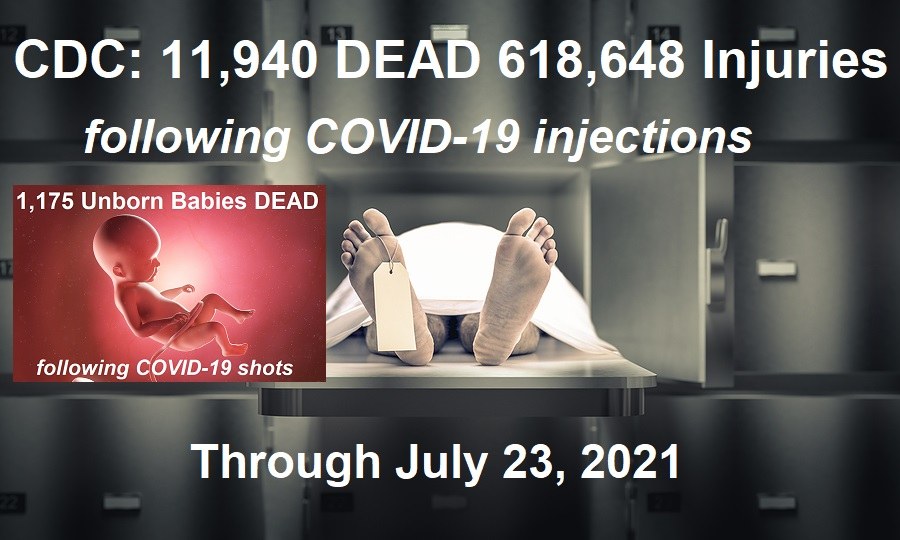 CDC internal data published by Washington Post totally contradicts the CDC's claim that "vaccination provides substantial protection against the virus."
There is no basis in the CDC's own data for the false claim.
Despite vaccination providing "substantial protection," "universal masking is essential to reduce transmission of the Delta variant," the CDC says.
This amounts to the claim that masks offer more protection than vaccination. This claim is also known to be false. Unless the mask is a N95, masks offer no protection.
The CDC document says "new research suggests vaccinated people can spread the virus."
The CDC document says: "vaccinated individuals infected with delta may be able to transmit the virus as easily as those who are unvaccinated. Vaccinated people infected with delta have measurable viral loads similar to those who are unvaccinated and infected with the variant."
The CDC document says: "Vaccine breakthrough cases are expected to increase as a percentage of total cases as vaccine coverage increases."
In other words, the breakthrough cases described as "rare" by the CDC are not rare. Studies in Singapore and other countries show that 75 percent of new Covid infections reportedly occur in people who are vaccinated.
»»» Killing In The Name Of… Bio-Weapons .Video below: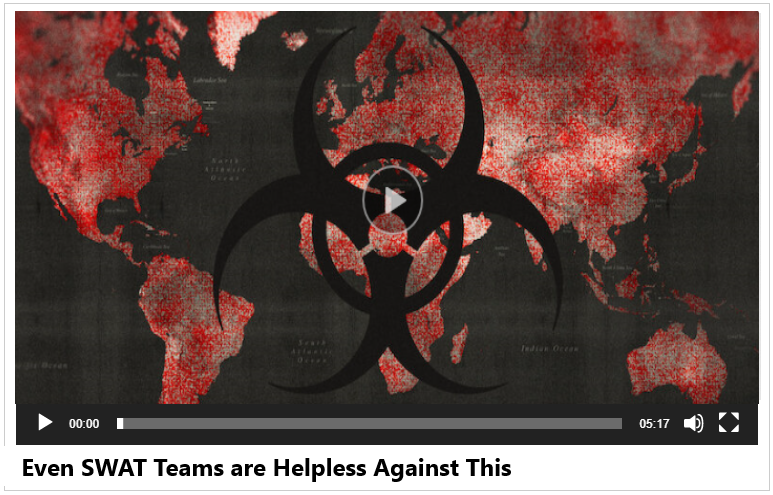 The CDC reports that 74% of new Covid Cases in Massachusetts are in fully vaccinated people.
Sooner or later perhaps the CDC and NIH will consider whether there is a "delta variant" or whether the "variant" is the illnesses caused by the vaccine. With the majority of what are called "new Covid cases" or "breakthrough cases" in Singapore, UK, Israel and many other countries occurring among the vaccinated, certainly the circumstantial evidence is that the "outbreak cases" are illnesses caused by the vaccines.
The irony is that the "pandemic" will likely turn out to be the product of the pcr test that is being withdrawn because of its high rate of false positives and inability to differentiate between flu and Covid, and the real outbreak is the result of injecting people with the Covid spike protein. In other words, the vaccination program created the Covid problem . . .
»»» HIV / AIDS = Fauci's First Fraud | Silent Weapons for Quiet Wars (video)
Latest Numbers from CDC – 11,940 DEAD, 618,648 SERIOUSLY INJURED, with 1,175 DEAD BABIES
by Brian Shilhavy
Editor, Health Impact News
According to the most recent stats released by the CDC this past Friday, their Vaccine Adverse Event Reporting System (VAERS) now has recorded twice as many deaths following the non-FDA approved experimental COVID-19 shots during the past 8 months, than deaths recorded following ALL FDA approved vaccines for the past 30 years.
In spite of these U.S. Government CDC-verified facts regarding the experimental COVID-19 shots, not only are they continuing to administer them, but the big push now is to MANDATE them as a requirement for employment in both government and private sector jobs.
And so far, at least, it seems that the majority of the U.S. public is willing to comply and participate in what can only be labeled mass genocide – Medical Martial Law Coming To America!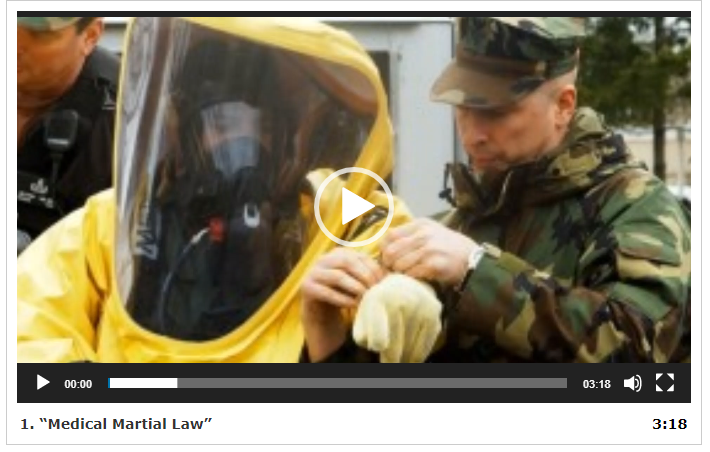 As we reported last week, Israel is now planning to roll out a third injection of the Pfizer shots to those who have already been injected twice and survived, targeting seniors first, and we can certainly expect the same rollout soon here in the U.S. as well.
The July 30th data dump into VAERS, which everyone acknowledges is not the full data of deaths and injuries following COVID-19 shots, reveals 11,940 deaths and 618,648 injuries among 518,770 cases, including 12,808 permanent disabilities, 65,272 emergency room visits, 40,873 hospitalizations, and 11,198 life threatening injuries.
---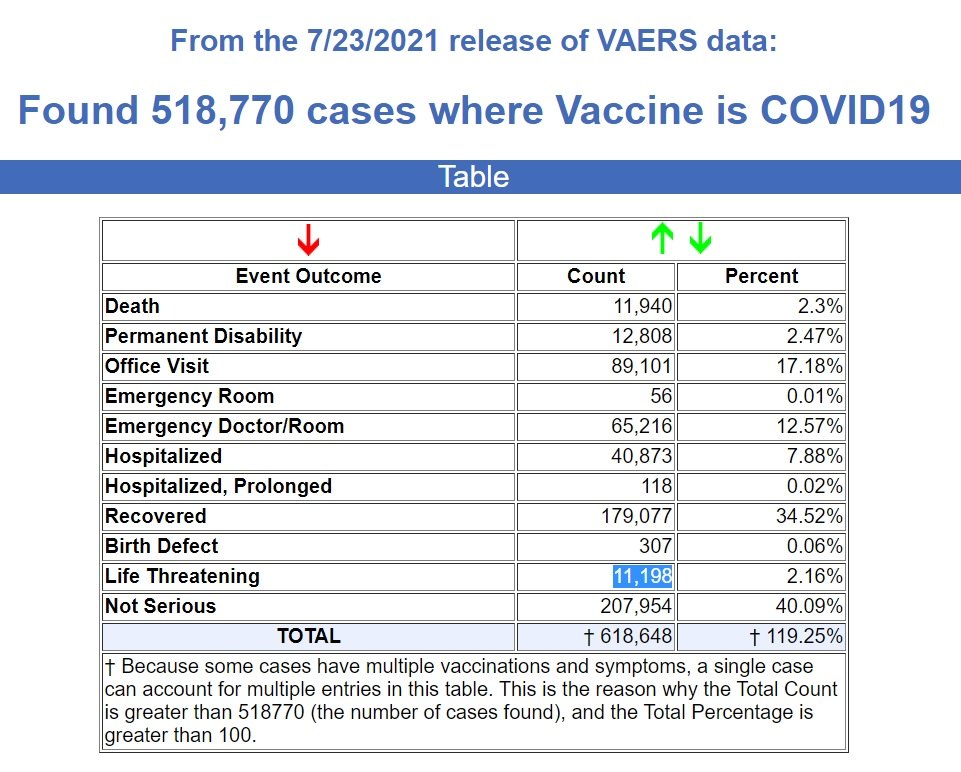 ---
There are also 1,175 premature deaths of unborn children following COVID-19 injections of pregnant women. (Source.)
This has to be the most censored information in the U.S. right now, even though it is based on the government's own data and own reporting system.
When confronted with these statistics, the CDC's response is that these reports do not prove causation. They would have everyone believe that all of these deaths and injuries following the COVID-19 injections are just "coincidences."
---
Also: Educate Yourself: How Herbs Used in the 1918 Flu Pandemic Can Be Effective Today (video below)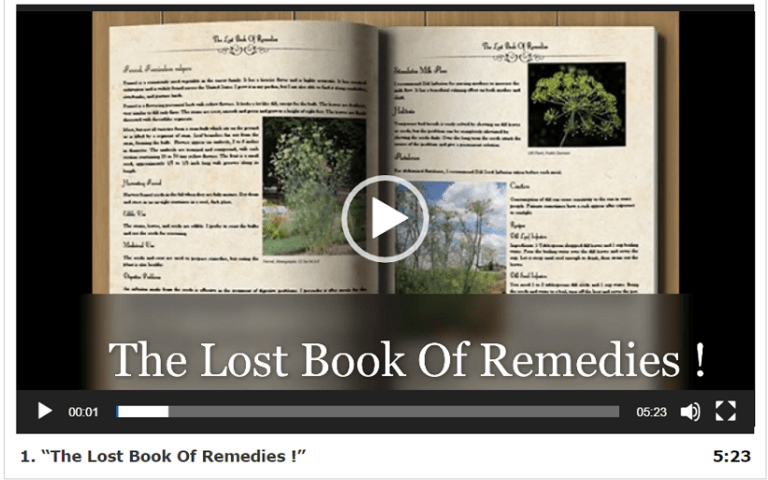 ---
Reports of adverse events to VAERS following vaccination, including deaths, do not necessarily mean that a vaccine caused a health problem. A review of available clinical information, including death certificates, autopsy, and medical records, has not established a causal link to COVID-19 vaccines. (Source.)
However, if you search for deaths following all FDA-approved vaccines for the 30 years prior to the emergency use authorizations of the COVID-19 shots, you will see that there are now about twice as many deaths following the COVID-19 shots compared to deaths following ALL vaccines for the PAST 30 YEARS.
---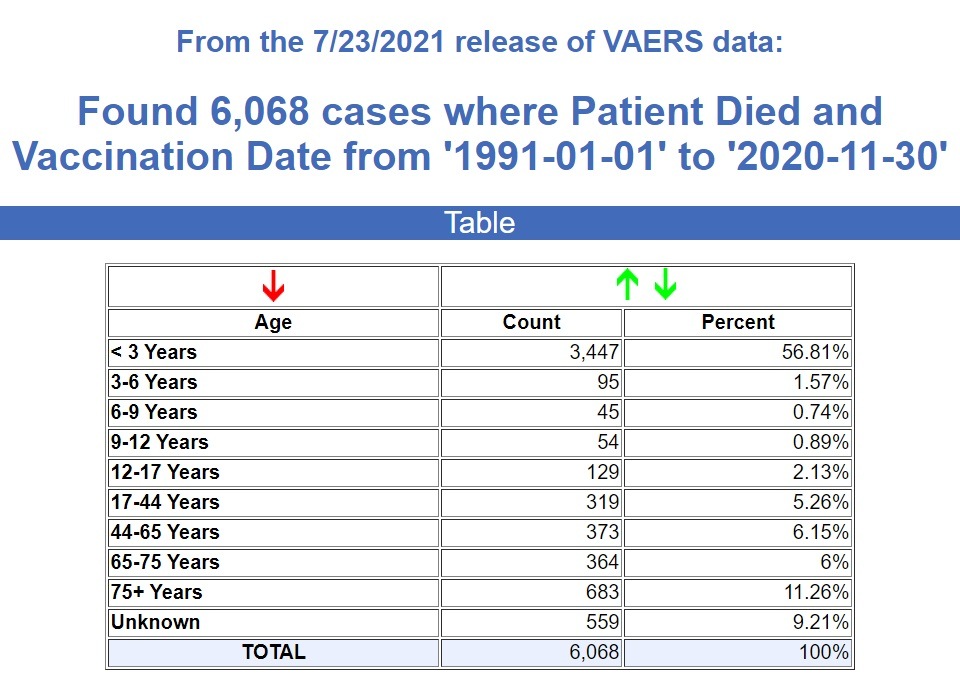 ---
Do the math people. Fact check the CDC's claims.
The COVID-19 injections were first given emergency use authorization in early December, of 2020. So the recorded deaths following these shots as of July 23, 2021 is 11,940, in less than 8 months.
But let's round it off to 8 months, which would equate to an average of 1,492 deaths per month.
From 1/1/1991 through 11/10/2020, there were 6,068 deaths in 359 months, which equates to an average of 17 deaths per month following FDA-approved vaccines.
That's a 8676% increase of recorded deaths following the COVID-19 shots, compared to deaths following all previous FDA-approved vaccines.
What are the statistical odds that these are all "coincidences"?
Pretty much ZERO. The CDC is lying to you. They serve the pharmaceutical companies, not the American people, and the sooner you figure that out, the better, because your life is at stake, and your life is meaningless to them.
»»» Viral Video: German Newspaper APOLOGIZES for Pushing COVID Lockdown Hysteria and Harming Society
---
---
Source: https://vaccineimpact.com/
Copyright Infringement: Digital Millennium Copyright Act of 1998 ("DMCA")
November 15, 2022 © US and EU all rights reserved. Permission to use this article in its entirety is granted under the condition it is linked to its source at American Media Group.
Medeea Greere, an independent publisher, is now on Telegram at https://t.me/AMGNEWS2022 and exists only on reader support as we publish Truth, Freedom and Love for public awareness. Thank You for your support!