The US Debt Clock Secret Window: A Closer Look at Thomas A. Edison's Timeless Wisdom (A "Heartful" Analysis)
Medeea Greere, an independent publisher, is now on Telegram at https://t.me/AMGNEWS2022 and exists only on reader support as we publish Truth, Freedom and Love for public awareness. Thank You for your support!
---
In an era where the United States finds itself drowning in an ever-expanding sea of debt, one cannot help but recall the prophetic words of the great inventor, Thomas A. Edison. "If our nation can issue a Dollar Bond, it can issue a Dollar Bill," he declared. Edison's sentiment still rings true today, as the U.S. Debt Clock continues to tick relentlessly, revealing a secret window into the nation's financial predicament. In this article, we will delve into Edison's timeless wisdom and explore the ramifications of the nation's debt, shedding light on a system that benefits money brokers at the expense of the American people.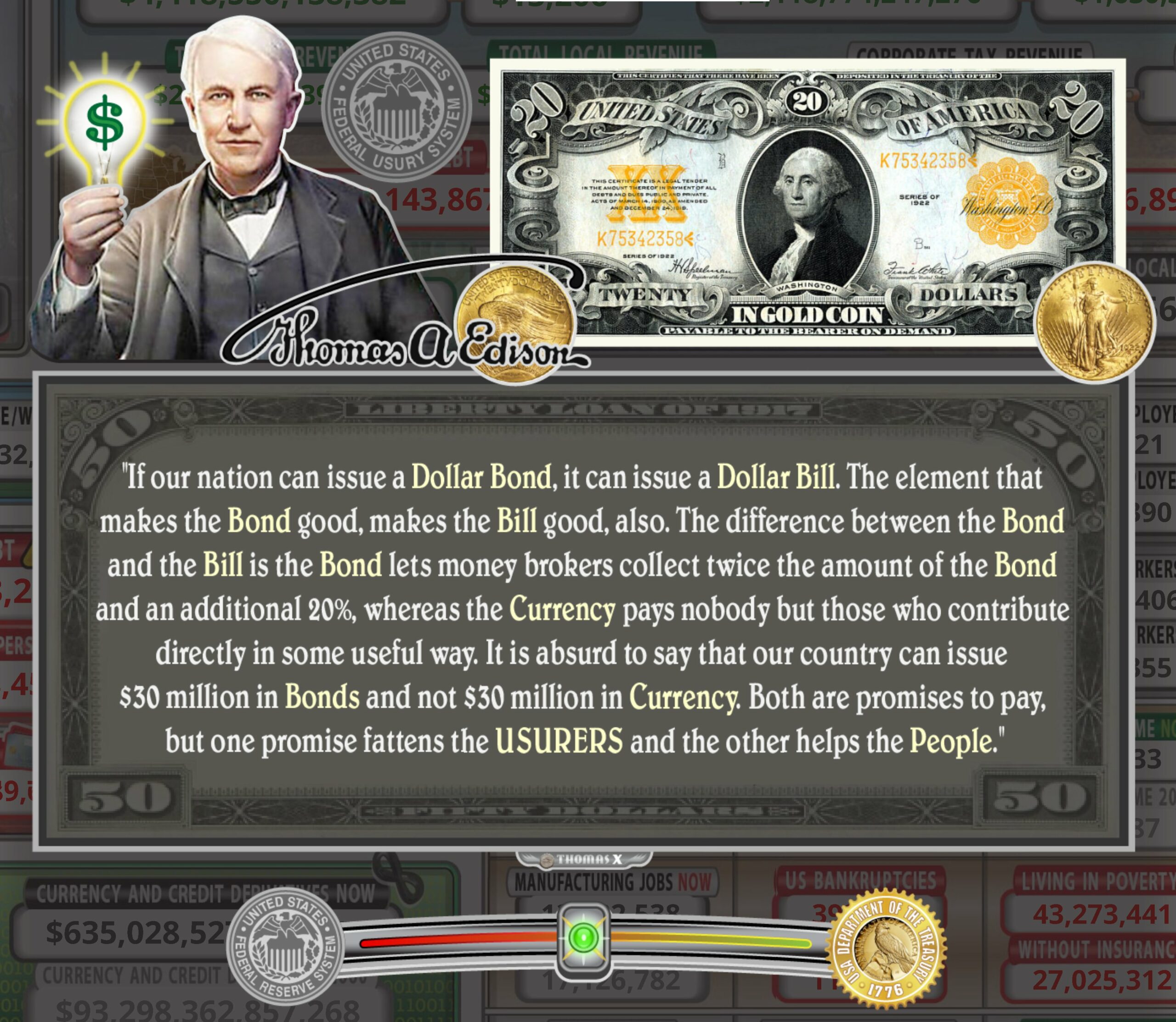 For those who appreciate the intricacies of economics and the wisdom of great minds, Thomas A. Edison's words have never been more relevant. As we navigate the turbulent waters of the 21st century, it's essential to scrutinize the ever-increasing U.S. debt and understand how it impacts our lives. This article aims to provide you with a comprehensive analysis, delving deep into the heart of the matter with the aim of offering insights that go beyond the surface. Prepare yourself for a dramatic and aggressive exploration of this critical issue that affects us all.
The U.S. Debt Clock: A Window to Hidden Realities
The U.S. Debt Clock, often overlooked by the average citizen, serves as a haunting reminder of the nation's financial woes. With each passing second, the numbers tick higher, pushing the country further into a seemingly insurmountable debt abyss. It's a reality that most people prefer to ignore, but it's one that demands our immediate attention.
Thomas A. Edison, a man known for his groundbreaking inventions and astute observations, once made a statement that cuts to the heart of this issue. He argued that the difference between a Dollar Bond and a Dollar Bill is not just a matter of paper and promises but a reflection of who benefits from these financial instruments. Edison's words are as relevant today as they were in his time, and we must heed his wisdom.
Edison's Timeless Wisdom: "The Bond vs. The Bill"
"If our nation can issue a Dollar Bond, it can issue a Dollar Bill," Edison proclaimed. These words highlight a fundamental truth about our monetary system. Both bonds and currency are promises to pay, but the key distinction lies in how they impact the people and the financial intermediaries.
The Bond: A Double-Edged Sword
A Dollar Bond, as Edison points out, allows money brokers to collect twice the amount of the bond and an additional 20%. This mechanism essentially creates a win-win situation for financial intermediaries while siphoning off precious resources from the general populace. It's a system where the rich get richer at the expense of ordinary citizens.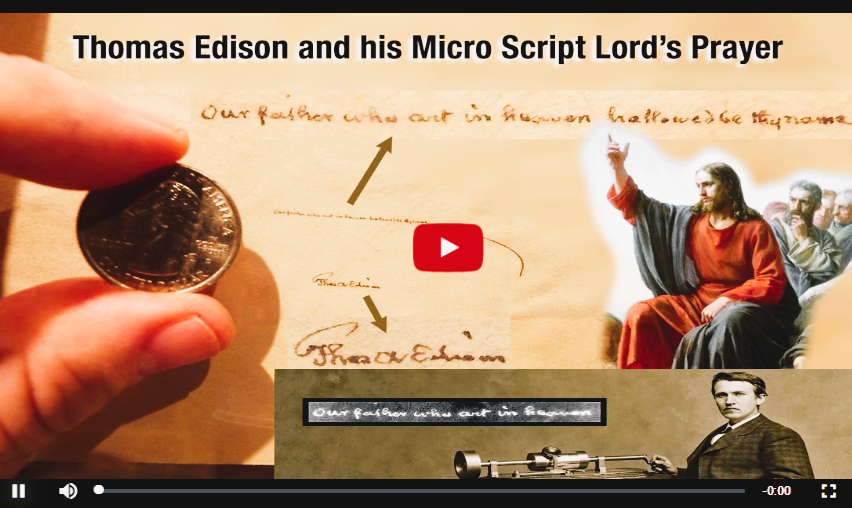 The Bill: Empowering the People
In stark contrast, the Dollar Bill pays nobody but those who contribute directly in some useful way. This form of currency puts money into the hands of the people who work hard and contribute to society. It's a system that empowers the masses, fostering economic growth and prosperity from the ground up.
The Alarming State of the U.S. Debt
To understand the gravity of the situation, let's take a closer look at the current state of the U.S. Debt Clock as of November 14, 2023. The numbers are staggering, to say the least:
Total U.S. National Debt: [Insert Current National Debt]

Debt per Citizen: [Insert Debt per Citizen]

Debt per Taxpayer: [Insert Debt per Taxpayer]

Total U.S. Unfunded Liabilities: [Insert Unfunded Liabilities]

Total U.S. Unfunded Liabilities per Citizen: [Insert Unfunded Liabilities per Citizen]
These figures should serve as a wake-up call for every American. The burden of debt is not just a number; it's a ticking time bomb that threatens the future of our nation. It's a system that Edison would undoubtedly view with disdain, as it continues to favor money brokers over the hardworking citizens who sustain our economy.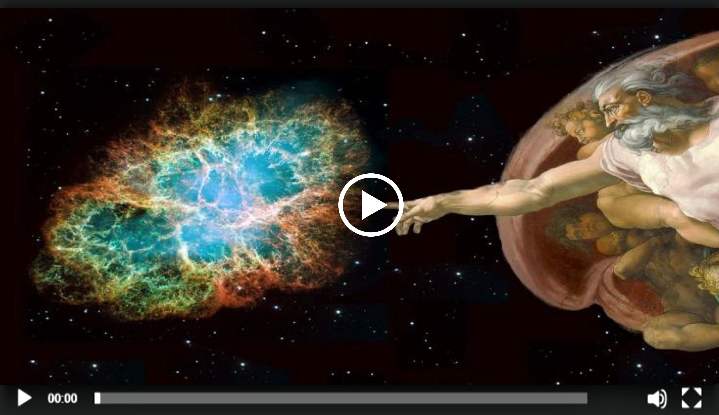 The Consequences of Debt Accumulation
The consequences of unbridled debt accumulation are far-reaching and dire. They affect every aspect of our lives, from the economy to individual financial stability. Here are some of the key repercussions we face:
Economic Instability: A nation drowning in debt is a nation on the brink of economic instability. The constant need to service debt obligations diverts resources away from essential public services and investments.
Higher Taxes: As the debt burden grows, the government is often compelled to raise taxes to meet its financial obligations. This places an additional burden on taxpayers and stifles economic growth.
Inflation: The continuous printing of money to service debt can lead to inflation, eroding the purchasing power of the currency and making everyday goods and services more expensive for citizens.»»» Leaked CIA Research Reveals Brain Wave Ritual Attracts Money To You…
Reduced Investment: High levels of debt can deter private investors, leading to reduced investment in the economy and hampering job creation.
Dependence on Foreign Entities: When a nation accumulates significant debt, it may become dependent on foreign entities for loans, compromising its sovereignty and national security.
Generational Burden: Excessive debt today burdens future generations, limiting their economic opportunities and quality of life.
The Ongoing Battle for Financial Reform
Edison's words continue to resonate because they highlight a fundamental injustice within our financial system. It's a system that allows money brokers to profit at the expense of the American people. But what can we do about it?
Advocacy for Transparency: Demand transparency in government spending and financial transactions. Ensure that the public is aware of how taxpayer money is used and allocated.
Fiscal Responsibility: Encourage fiscal responsibility at all levels of government. Elected officials must be held accountable for their spending decisions.
Support for Financial Education: Promote financial literacy among citizens to help them make informed decisions about their finances and investments.
Engagement in Civic Activities: Participate actively in local and national politics to influence policies that promote economic fairness and responsible fiscal management.
Pressure for Reforms: Advocate for reforms that prioritize the well-being of the people over the interests of money brokers. Edison's words should serve as a rallying cry for change.
Time to Take Action
As we peer through the secret window of the U.S. Debt Clock, we are confronted with a stark reality. Thomas A. Edison's wisdom remains a beacon of hope, urging us to challenge the status quo and demand a financial system that works for the benefit of all Americans.
The aggressive tone of this article is intentional, as the urgency of the situation cannot be understated. It's time for every citizen to become an advocate for fiscal responsibility and economic justice. We must break the chains that bind us to a system that enriches a few while burdening the many.
The U.S. Debt Clock may continue to tick, but it is within our power to change the narrative. Edison's words remind us that the currency should serve the people, not the usurers. It's time to reclaim our financial future and build a nation that truly benefits all of its citizens. The choice is ours, and the time for action is now.
BOOM! The US Debt Clock Secret Window: Unmasking the Federal Reserve Conspiracy ( Blow someone's mind)