URGENT EMERGENCY MESSAGE: PREPARE for SHTF NOW! This Isn't a Drill – This is 2023 and SHTF is NOW!
Medeea Greere, an independent publisher, is now on Telegram at https://t.me/AMGNEWS2022 and exists only on reader support as we publish Truth, Freedom and Love for public awareness. Thank You for your support!
---
The warnings are real.

The dangers are imminent.

A storm is brewing, and we're on the verge of something catastrophic.

General Saltzman, Chief of the Space Force, brings a chilling message of looming conflict.

This isn't a drill – this is 2023 and SHTF is NOW!
America, the silence of your smartphones, the darkness of your cities, and the imminent collapse of your economy may just be around the corner! If you aren't prepared, you might be left behind in the chaos.
For years, conspiracy theorists have been saying that the world is heading toward a catastrophic event. They've been labeled as fearmongers and dismissed. But, when one of the highest-ranking officers in the United States military comes forward with such a chilling message, even the skeptics must sit up and take note.
General Saltzman – not your everyday internet alarmist, but the Chief of the Space Force – is giving an emergency warning to the American populace about a forthcoming storm that could change the face of our country, and perhaps, the world: World War III. The fact that such a respected figure has come forward with this information underscores the gravity of the situation.
Remember when wars were fought with guns and tanks? Welcome to the modern era. Now, the buttons that launch attacks are not on weapons, but on keyboards, and their effects could be far more catastrophic.
An EMP, or Electromagnetic Pulse, is not a new concept. But its potential use as a weapon is becoming increasingly real. General Saltzman warns of an EMP attack that would target America's satellites. Imagine waking up to complete radio silence: no internet, no TV, no mobile networks. That's the horror an EMP attack can bring.
Without these satellites, America would be plunged into darkness – both metaphorically and literally. Our dependency on technology has become our Achilles' heel. With communication systems down, the entire nation could descend into chaos.
The Aftermath of the Attack – SHTF 2023
For those unfamiliar with the term, SHTF stands for "Sh*t Hits The Fan," a prepper slang for when a catastrophic event turns our world upside down. And according to insiders, 2023 is the year it all falls apart.
But it isn't just about the blackout. The ripples of such an event would stretch further than we can imagine. Prepare for a potential economic collapse. Already fragile due to various global events, our economy would be the first to feel the effects.
Another term you should familiarize yourself with is WROL, or "Without Rule of Law." With systems down and panic in the streets, enforcing law and order becomes almost impossible. Remember the last time there was a minor power outage and how people reacted? Now, multiply that by a thousand.
Prepping for the Apocalypse
To become a prepper doesn't mean you're succumbing to panic; it means you're smart. It means you've seen the signs, and you're willing to take action. Investing in commodities like silver and gold is not just a trend; it could be a lifesaver.
ASLO: The US Army's Forgotten Food Miracle and 126 Superfoods That You Can Store Without Refrigeration for Years
But prepping goes beyond finances. Think about your food sources, your water supply, and your energy needs. In a world where supply chains are already breaking down, post-EMP, they could be non-existent.
The bible, in Luke 21:19, says, "Stand firm, and you will win life." Regardless of religious belief, this message resonates in today's tumultuous times. To stand firm is to prepare, to be aware, and to face what's coming head-on.
Attention: You Might be Living in One of America's Death Zones and Not Have a Clue About It!
Rising Dragon in the Cosmos: China's Sinister Shadow Over U.S. Space Dominance
In the vast expanse of the cosmos, where galaxies unfurl their arms in a dance of infinite majesty, a new and formidable power emerges, threatening the stars and stripes that once painted the skies with dominance: China.
As America's top Space Force General warns, the sanctity of U.S. military dominance in space is under an unprecedented and 'most immediate threat.'
The Chinese regime's aggressive efforts to dominate outer space posed "the most immediate threat" to the U.S. satellite capabilities and ground infrastructure, according to the general nominated to lead the U.S. Space Force.
"The most immediate threat, in my opinion, is the pace with which our strategic challengers, first and foremost the Chinese, are aggressively pursuing capabilities that can disrupt, degrade and ultimately even destroy our satellite capabilities and disrupt our ground infrastructure," Lt. Gen. Bradley C. Saltzman said.
Saltzman, President Joe Biden's nominee to the Space Force's chief of space operations, made the remarks  before the Senate Armed Services Committee. During his first confirmation hearing, he was questioned about U.S. satellite capabilities in the face of threats from the Chinese regime and Russia.
WARNING! THIS IS URGENT! The Following Message is for Families…What You Do In The Next 5 Seconds Will Determine If You And Your Family Survive Or Die…
Sen. Jim Inhofe (R-Okla.) noted that the United States has "gone from the unquestioned leader in space to merely one of two peers in a competition" during the past decade, and most of the public doesn't realize the situation.
Saltzman, who currently serves as the deputy chief of space operations, said he is confident about U.S. military dominance, though he can't talk specifics given the hearing's public nature.
"We are still the greatest spacefaring nation on the planet," Saltzman told the senators. "The Space Force's capabilities, what we can provide to the joint force, are extremely capable, and I still put us at the head of the table."
However, Saltzman noted the pacing advancement by China and Russia in their space capability is worrisome.
"Unfortunately, our adversaries are investing heavily to close that gap and supersede us. I'm worried about the pace with which they are making those changes," Saltzman said. "China [is] first amongst them, but Russia is also committed to investing heavily in the kinds of capabilities that are going to disrupt, degrade, and even destroy our on-orbit capabilities. And so it's that pace of change and their commitment to disabling it that's most concerning to me."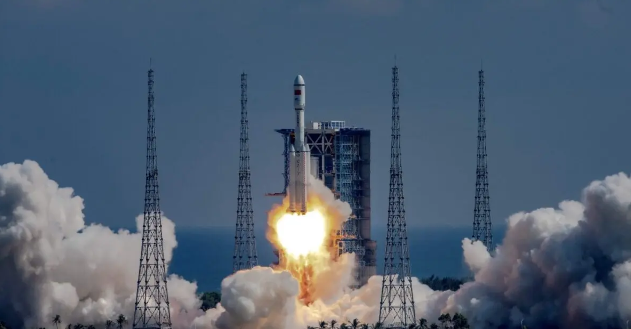 'Warfighting Domain'
While Saltzman said neither the Chinese regime nor Russia would cripple the United States today, he urged a shift to a more defensible architecture as the space has become a "warfighting domain."
"I think the best way to state that is the current attacks that we are seeing are not sufficient to take out our capabilities," he said. "We are resilient and [as of] today."

"As soon as we go into a crisis contingency, I do not believe we designed our system to operate in that level of a contested environment," he continued. "So we need to change to a more defensible architecture to account for the fact that space has shifted from a benign environment to a more contested warfighting domain."
According to Saltzman, such a resilient architecture would be proliferated constellations comprising many small satellites instead of a few large ones, like the current structure of the U.S. forces.
"I think we can look at some of the observations we're seeing in Ukraine, that a distributed architecture where there are more satellites, with proliferated missions, that's harder to attack," he said. "Big single satellites are much easier to attack than a distributed proliferated constellation of capabilities and becomes a tougher targeting problem."
Saltzman also agreed that the U.S forces could leverage space technology from commercial markets to ensure space dominance.
In July, Gen. John Raymond, current Space Force's chief of space operations, warned that the Chinese regime is reaching "near parity" with the United States regarding its space capabilities. Raymond added that the regime is working to develop technologies that could seize the military, civil, or commercial advantage in space.
URGENT EMERGENCY MESSAGE: PREPARE for SHTF NOW!