What If the World Isn't as It Seems? "Awakening" From The Matrix – How to EXIT the MATRIX (The Mindset Shift You Need!)
Medeea Greere, an independent publisher, is now on Telegram at https://t.me/AMGNEWS2022 and exists only on reader support as we publish Truth, Freedom and Love for public awareness. Thank You for your support!
---
Surely you know the "matrix" and you already know it from the movie, in which Neo – the protagonist – claims that the world he lives in is just an illusion. However, The Matrix is ​​more than just a movie. In fact, most people's real life is similar to life in the Matrix.
In this article, you'll learn what programming limits you in real life and what you can do to get out of the matrix. So stay tuned!
"The Matrix concept is not that different from reality. We get up in the morning, establish habits, go to sleep just to get up and do it again. It's like you exist but you don't feel alive." -Keanu Reeves-
The world is not what it seems
If you think the world is what it seems, you are wrong! Because what we see is not reality, but our interpretation of reality. And this interpretation depends on our personality, our character, our experiences and many other factors. More on that later…
What is the Matrix?
The term "matrix" comes from Latin and means "animal mother, uterus". In science, it is used to describe an environment or milieu in which something exists or in which something is formed. In computer science, on the other hand, the term matrix is ​​often used in relation to databases.
A database array is a table containing all possible combinations of attributes and entities. This allows the user to quickly search for specific combinations and extract that information.
The Matrix is ​​an illusion, a perfect simulation of reality. Humans who live in the Matrix are unaware of themselves and act out of their ego identification. They don't see the big picture and are identified with their self-image.
How does the matrix work?
The Matrix consists of so-called programs that keep the construction of the Matrix alive and make people think that they correspond to reality.
"Awakening" from the Matrix
The process of awakening that one goes through until awakening from the matrix can also be called spiritual awakening. Awakened from the sleep of ignorance, we begin to see that our experience of reality is actually some kind of dream. Through this awakening, however, we realize that we are the ones who created this dream.
The moment we become aware of this fact, we experience a kind of spiritual awakening. There follows a separation between mind and consciousness and from there man becomes an observer of himself.
Limiting programs that keep you stuck in the matrix
If you look at your own life, you will quickly realize that many of your actions are purely automatic. You no longer think about what you are doing, you simply act out of habit.
Many of these habits are certainly positive, but there are also habits that limit you and make your life difficult. In the Matrix, these mechanics are called "programs". Programs that happen to you and you identify with them so strongly that you think they are reality.
The following programs keep you stuck in the matrix:
Your ego (the self-image you unconsciously identify with)

Your beliefs (the filter with which you perceive the world) imposed from an early age by people you care about

Your unconscious conditioning (compulsive behavioral patterns = stimulus followed by reaction)

Your reference impressions/experiences
Other external influences/factors that keep you in the matrix:
Your work/the hamster wheel (takes the cycle of "get up – work – consume – sleep!)

The media / information flood (there is a flood of information – filtering, questioning and verifying the veracity of this information is often very difficult) Also, behind every media there is a sponsor who pursues certain interests. Objective reports are often not provided.

Laws, rules, norms

How to get out of the matrix – 7 step guide
The first thing you'll discover when you leave the Matrix is ​​that it's not as easy as you might think.
It's a long and arduous road, but it's worth the journey. Because when you reach the end of that path, you will see a whole new world in front of you. A world full of possibilities and where you finally feel free. The following 7 steps will help you get out of the matrix:
1. Start meditating and become self-conscious!
Everywhere we are overwhelmed and overwhelmed by stimuli. Most people are so caught up in their daydreams, worries, and fears that they lose sight of the world around them. In doing so, they run the risk of losing touch with themselves and with other people, as well as with nature – or have lost touch for a long time.
Meditation is a method that helps you to reduce or stop your thought flow/thought carousel and restore access to yourself. You can find out more about this in our "Meditation for Beginners" article.
–All that you are not must die so that what you are remains.
2. Become aware of the matrix – recognize the connections
So, to get out of the Matrix, we must first realize that it exists. We need to question why we do or don't do certain things. When we realize that our programs limit and control us, we can begin to free ourselves from them.
3. Start critically questioning (self-reflection)
Direct your attention from OUTSIDE to INSIDE and reduce external stimuli by minimizing news consumption. Deal with you and your personality! Ask yourself questions like:
Why am i the way i am
Who am i really?
Wy am I here?
Why do i think the way i think
Deal with your values/needs/beliefs and your impressions
Analyze Your Parents' Behavior – What behavior patterns did you inherit from them?
What formative events from the past still influence your behavior today?
What prevents you from your personal development? What serves your development?
Always ask yourself if what you see and hear is really the truth. Try to have different perspectives and make room for other views and opinions. This is extremely important to form an opinion.
4. Listen to your intuition and set goals
Another important step to get out of the Matrix is ​​to define your own goals. Many people live their lives for the goals of other people or the goals of the system. They do things because other people tell them to or because they are expected to do it. But if you set your own goals and follow your heart, you will begin to shape your own life.
You will discover what is really important to you and what makes you happy. Then you can invest your time and energy in the things that really mean something to you and create your life according to your own ideas and desires.
PATRIOT ALERTS: YOUR TRUMP TRB MEMBERSHIP HANDBOOK IS WAITING TO BE IN YOUR HAND!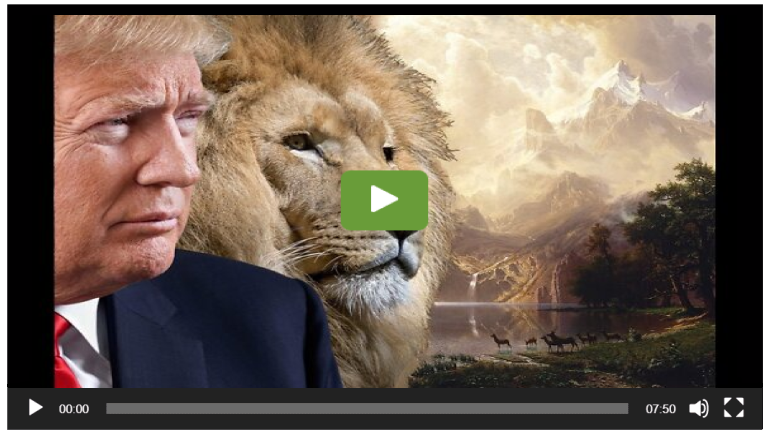 5. Learn from your experiences
Another important step is to make your own experiences and reflect on them over and over again. Stop letting people and the media manipulate you and start thinking for yourself. Don't always choose the path of least resistance, but sometimes take the rocky path and dare to step into the unknown. Get out of your comfort zone, because that's where your greatest growth potential lies.
6. Take 100% responsibility for yourself
It may sound harsh, but it's the truth. If you are not willing to take 100% responsibility for yourself and your life, you will never change anything and you will always be unhappy. So always decide in all matters whether you want to be part of the problem or part of the solution. The choice is entirely yours.
7. Go your own way
You are the most important person in your life! Become aware of your values ​​and act accordingly! Know your strengths and weaknesses and don't let them manipulate you. Use your knowledge and your power to DEVELOP and follow your own path.
Conclusion
The Matrix is ​​a system full of limiting programs that manipulate us and dictate what we should do. These rules and norms are very ingrained in our society and are taught to us from childhood. Many people live in the matrix their entire lives without realizing it.
Now it's time to get out of the Matrix. Become self-aware and recognize the limiting programs within you, which will help you break free from the shackles of the matrix. Use your power and intelligence to break free from the controls of this system.
YES! You Are Living In The MATRIX – The Ego Is No Longer Needed